New law proposed after protests over Kazbegi road works
By Tatia Megeneishvili
Friday, August 2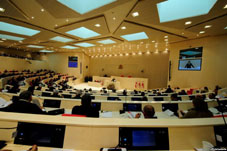 In response to the controversy surrounding the road work at Kazbegi earlier this year which destroyed several unique rock formations, a new law has been proposed in parliament that would protect 16 places of natural beauty around Georgia. Among the areas that would be listed as areas of outstanding beauty are Balda Canyon, the Oniore waterfall and the Toba cave complex. The law was proposed by Gia Tsagareishvili, Chairman of the Parliamentary Environmental Protection and Natural Resources.
Tsagareishvili said the Kazbegi area and other areas of natural beauty should be placed under strict protection in order to avoid such damage in the future. "We must have permanent relationships with other government agencies such are the Roads Department and the Ministry of Energy so we can coordinate about issues concerning protected areas. Without it, we will lose these unique monuments." Tsagareishvili stated.
Irakli Macharashvili, a representative of the NGO Green Alternatives, thinks Tsagareishvili's initiative is timely.
"The main reason we should preserve these areas is because of their biological diversity and we should also promote their sustainable use." Macharashvili said, adding that since Soviet times no protected areas have existed in such regions as Samegrelo. The new law will expand the number of protected areas and will raise awareness among the local population about preserving areas of natural beauty. The law includes a proviso that those who destroy or harm protected natural monuments will be heavily fined.
Toma Dekanoidze, representative of the Agency of Protected Areas (APA), said that the APA plans to add another 100 monuments to its list.
The proposed law for creating and managing natural monuments will be considered during autumn parliamentary session.