Georgian officials react to Medvedev
By Ana Robakidze
Tuesday, August 6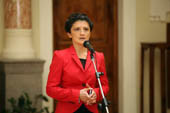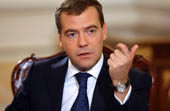 The Russian prime minister's recent interview with Russia Today, where he spoke about the August War of 2008 and Russia-Georgian relations, has caused a small backlash among Georgian politicians and experts. The Russian PM made controversial statements about the reasons that caused the war and about the mistakes both sides had made.
The Georgian government still wants to restore diplomatic relations with Russia. Commenting on Medvedev's statement, that Georgia will have to meet some terms in order to restore diplomatic relations with Russia, Minister of Justice, Tea Tsulukiani, said there should be no preconditions for renewing diplomatic relations with Moscow and the negotiation table should be opened urgently, otherwise parties will never be able to discuss fundamental issues.
The minister says it is a fact that Russia occupies Georgian territories.
"In August 2008, Russia attacked Georgian territory and today the troops are deployed several kilometers away from our capital, this is an occupant and even more. It carries out creeping annexation." Tsulukiani said, adding that Georgia will never agree on Medvedev's request to have the consequences of the August War recognized by Georgia.
U.S ambassador to Georgia, Richard Norland, agrees with Tsulukiani and says Georgian territories are occupied by foreign forces. The ambassador made a statement on the August War and said it is obvious both sides had made mistakes, but there is nothing that can justify the "illegal occupation of sovereign territory," Norland said international society is now focused on the Geneva Talks and the results they can bring.
"I don't think anything justifies the illegal occupation of sovereign territory and our focus is on working with Russia, with Georgia, and with the de facto authorities to try to negotiate a reasonable settlement and a better future for this region. Our focus is on the Geneva international discussions and particularly in the short term to try to negotiate arrangements on a humanitarian basis so people can cross the boundary lines and engage with each other. There is no place in the modern world for building a new Berlin wall," the U.S ambassador stated.
"Medvedev is simply lying when he says Georgia started the August War," Former Foreign Minister of Georgia, Grigol Vashadze, said in his TV interview. Vashadze stated that it began even earlier and by August the 1st separatists deployed in Tkhinvali already had opened fire on Georgian villages.
Another former Foreign Minister of Georgia, Salome Zourabichvili, also reminded Medvedev that restoring diplomatic relation will never be possible if Russia does not stop setting preconditions for Georgia. In her statement Zurabishvili said that there is a whole range of issues Russia will have to acknowledge and apologize for.
While commenting on Medvedev's recent interview and his assessments of Russia-Georgian relations, some representatives of the Georgian Dream coalition predictably focused on the mistakes Georgia and President Mikheil Saakashvili made.
The Georgian Dream MP Gia Volski is sure Russia would have not been able to occupy Georgia, if Saakashvili had not made grave mistakes. Volski said there was a peacekeeping process going on with the great support of international society and Russia was participating in the process, but "he (Saakashvili) simply ruined the peacekeeping process," Volski said, adding that the mistakes the President made led to the occupation of the country's territories.