Georgian PM fires back in WSJ Op-ed
By Ana Robakidze
Wednesday, August 7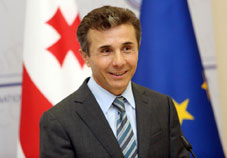 "Today we are on the right track, but we need strong international support to defy our skeptics and achieve our goals," Georgian Prime Minister Bidzina Ivanishvili said in his opinion piece published in the Wall Street Journal.
He said his government tries to carry out "pragmatic policies and concrete reforms on the path to the country's modernization and full democracy, and also cooperate with the opposition." Ivanishvili said the government is trying to turn the country into "an example of a stable democracy and a reliable partner for Europe and the U.S." he goes on to say that it has been successful so far and that NATO Secretary General Anders Fogh Rasmussen's statement that Georgia has already moved closer to the alliance serves as proof to it.
According to Ivanishvili the government is trying to lead with "pragmatic" policies in relations with Russia, which means that the Cold War rhetoric is now over. The government avoids "the irresponsible actions that led us into the 2008 conflict."
"Trade with Russia is being allowed to resume as a confidence-building measure, but we remain firm on the return of Russian-occupied Abkhazia and South Ossetia. This issue should be handled in compliance with the principles of international law, which will require active engagement from international organizations and from our Western partners," Ivanishvili states.
The PM said that his government has carried out vital reforms within the judicial system and had made clear progress. Ivanishvili stated that now the criminal justice system of Georgia is liberalized and judges are independent in their decisions. He says the government has been successful in the field of economy by "revitalizing the agricultural sector, creating a fair tax system, and eliminating political pressure on and extortion of private businesses." However, Georgia is still in need of constitutional reform to have the better distribution of power between the government branches.
Ivanishvili said that Georgia remains committed to its international responsibilities and despite the tragic losses, the country will continue participation in the ISAF mission in Afghanistan.
"Regrettably I cannot agree with the PM that the country is on its way to modernization," political analyst Nika Chitadze told The Messenger. The expert says a number of events that took place recently do not serve as an example of the country's modernization or democratic development. Chitadze referred to the events of May 17th when a crowd attacked an anti- homophobic rally and the incident that took on February 8th, when former political prisoners and some citizens were demonstrating in front of the National Library, when President Saakashvili was going to deliver his annual speech. The demonstration turned into a clash between the demonstrators and UNM supporters. (although in both cases police took adequate measures to stop violence in time). Chitadze is also skeptical about the reforms in the economy. According to Chitadze the new government has been somehow successful in social programs.