Medvedev sees positive signals from the Georgian government
By Ana Robakidze
Thursday, August 8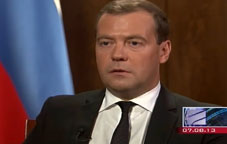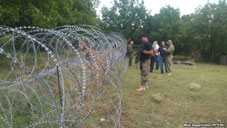 "I made the right decision in August 2008," Russian Prime Minister Dimitri Medvedev said in his interview on Rustavi 2. Russia-Georgian relations, Georgia's aspiration to join NATO, Bidzina Ivanishvili's government and the relocation of the occupation line, were among the issues Medvedev spoke during his interview.
"I was the one who took the decision and I believe it was the only right decision in that situation. Of course there is no condition whatsoever now to revise this decision. It would be a gross mistake," he said, once again reiterating that Russia will not review its decision to recognize Abkhazia and South Ossetia.
"At this stage, Russia is not going to review the recognition of the independence of Abkhazia and South Ossetia," Medvedev stated. He also said that the future depends on the people and their will.
"The future depends on people… on Georgia as a whole, on those people who live in these areas we have recognized as subjects of international law, on the collective will of the people," the Russia PM said, adding that there is a possibility for a very different scenarios to develop, but everything should happen based on "the will of the people and not on military force." Medvedev stated that if there is a common desire of the Georgian, Abkhazian and Ossetian people to cooperate and settle relations, Russia will never interfere and hamper the process.
Answering a question about the recent events in Ditsi village, when the occupation line was relocated and barbed wire fences were installed, Medvedev said that Russia had nothing to do with it.
Speaking about Georgian-Russian relations, Medvedev said that positive signals coming from the Georgian government have been "heard" in Russia. He especially welcomes the fact that Georgia is not going to boycott the 2014 Winter Olympic Games in Sochi.
According to Medvedev's assessment, Georgian Prime Minister Bidzina Ivanishvili is a pragmatic person, who wishes for the prosperity of his country and has defined his political orientations and priorities.
Russia still remains concerned over Georgia's intention to join NATO. "To put it mildly, we do not welcome Georgia's membership in NATO," Medvedev said. He explained that Russia acknowledges that Georgia and any other country has all the rights to join the organization it wants to, but Georgia's NATO membership simply does not comply with Russia's interests and the membership will harm Georgia as well.
In the interview, the Russian PM revealed his hopes that the two countries will restore good neighborly relations. Medvedev said that Georgian and Russian people are linked by their mutual interest to live in peace.
Representatives of the Georgian government and opposition have already commented on Medvedev's interview. Georgian politicians say they do not believe in the Russian PM's sentiments and kind wishes to have good relations with Georgia.
The Chairperson of parliament's Interim Commission on the Restoration of Georgia's Territorial Integrity, Giorgi Volski, said Georgia should not be influenced by Medvedev's sentimental statements and the country should follow its strategic interests.
Goka Gabashvili, MP from the oppositional United National Movement (UNM), said Medvedev's interview was nothing but an expression of his "cynical" attitude towards Georgia. Gabashvili said that Russia is looking forward to Georgia making fatal mistakes and finally lose territories. He reminded Medvedev that the territories Russia occupies are internationally recognized as Georgian territories and this can never be changed.