Restraint called for after border incident
By Tatia Megeneishvili
Tuesday, August 13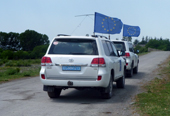 On the 5th anniversary of the August War on August 10 at approximately 11.00 am, in the area of the village Kveshi, in the Gori district, the European Union Monitoring Mission in Georgia (EUMM) patrol was conducting routine monitoring activities.
According to the MIA unknown armed militants from the occupied Tskhinvali region fired their weapons in the direction of the mobile patrol crew. After which both the EUMM patrol and the Georgian police withdrew from the spot. Nobody was injured during the incident.
After the immediate activation of the hotline by the EUMM the situation on the ground has been stabilized. On the same day the EUMM convened a meeting in Kveshi with representatives of the Georgian Police, South Ossetian de facto Border Guard Services, and the Russian Federation Border Guards. According to the EUMM "all sides agreed to avoid actions that may contribute to destabilizing the situation."
The Russian news agency Interfax reported that the car of the MIA, crossed the administrative border of South Ossetia, near the village of Artsevsi, as a result, shots were fired into the air. As Interfax was told by the state security committee of South Ossetia, when the police car approached the border, the guards from South Ossetia, demanded that they stop, but the demand was ignored, "after ignoring repeated requests from the border several times, a warning shot was fired in the air, after which car left the territory."
Residents of the village say there were three shots fired not one.
The leader, of the European Democrats Paata Davitaia held a press conference where he stated that Georgian people must be grateful of the heroes that gave their lives in 2008, "but the fact is that nothing really has changed since then and the aggression against Georgia still continues."
According to him, it is clear that the Russian side makes no concession about the territorial issues and the steps that Georgia has taken for the last years have not brought any result. He also stated that the agreement between Georgia and Russia about trade will not change anything concerning the Georgian breakaway territories.
Meanwhile, the EUMM calls on all parties to show the utmost restraint and to steer clear of provocations.