Ugulava asks to increase city budget
By Tatia Megeneishvili
Thursday, August 15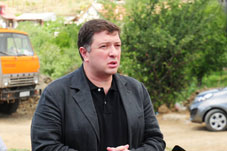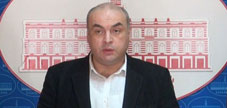 Kindergartens, water supply, damaged houses, new public transport and gasification are the items for which Tbilisi City Hall requests an additional 17 million. A consultation behind closed doors between the chairman of the Tbilisi City Assembly and the mayor's deputy lasted several hours on August 13. As the mayor's deputy, Papuna Petriashvili explained with those changes the budget's volume will increase to 740 million GEL.
Petriashvili said that City Hall's budget will increase by 17 million but they do not ask for "a transfer from the central budget." He said the money will be allocated from various projects according to priority. He said the money saved from different tenders will also be considered.
Mayor Gigi Ugulava offered the Ministry of Internally Displaced Persons from the Occupied Territories, Accommodations and Refuges of Georgia (MRA) to collaborate for those 2, 000 refugees who still have gasification problems in the capital. According to Ugulava, City Hall also plans to buy 100 buses for especially remote areas, with the ability of transporting people with disabilities.
The majority of Assembly members support the idea about improving the kindergarten infrastructure. Chairman of the Tbilisi City Assembly, Irakli Shikhiashvili, said the residents of Tbilisi must know that all the changes that they need will be supported by the assembly. "I would like to emphasize that the initiative comes from us. We work in cooperation with the City Hall, because in the case of a disagreement, we will have chaos and unrealized projects,'' stated Shikhiashvili.
Jaba Samushia, the Deputy Chairman of the Assembly, does not share this initiative; on the contrary, he has many questions for City Hall. Samushia thinks that City Hall has wasted a lot of money on financing the United National Movement (UNM) instead of solving problems in previous years. Samushia also stated that 38 kindergartens were closed by Ugulava, and this caused 18,000 kids to be left without a kindergarten. "This problem must be solved," said Samushia.
However, the minority in the assembly supports the possible changes in the budget. "All the problems of the residents of Tbilisi are foreseen in the document," said Tamaz Shoshiashvili, the Chairman of the Property Management and Finance-Budget Commission of the Assembly, stressing that the purpose of this budget is to solve the problems of all the residents of the capital.
According to the representatives of Tbilisi City Hall, Ugulava is ready to discus all the details of the project with any faction in the assembly. The proposed changes are supposed to be put to a vote on August 26.