The former CEC chair plans to join politics
By Messenger staff
Friday, August 16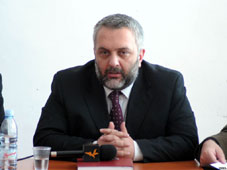 Zurab Kharatishvili, the former chairman of the Central Election Commission (CEC), plans to join the Georgian political arena. At a special press conference on August 15th, Kharatishvili summarized the years he has spent as the CEC chairman, stressing the success of the municipal government elections in 2010 and the parliamentary elections in 2012 which ended with a peaceful transition of power.
Kharatishvili said while being the CEC chairman he could see what works and what needs to be avoided.
Kharatishvili said he has decided to use all his knowledge "to restore relations" and "consolidate society."
"By actively engaging in politics I am taking my share of responsibility over the future of the country." he said before announcing the creation of a new political centre. Without giving details about the new centre, Kharatishvili said he will develop a conceptual basis with like-minded people, those who do not have "marginalized views" and are not "radical" and will hold consultations with various political parties.
Stressing that today the CEC is a solidly organized body, Kharatishvili said his resignation will neither hinder the election period nor affect voters.
Calling it one of the hardest but most successful elections, Kharatishvili said last year's parliamentary elections were a "huge step forward" in the country's democratic development.
Expressing his gratitude towards the entire staff of the CEC, Kharatishvili described his time as CEC chairman as a very important experience for him. He also thanked President Mikheil Saakashvili and Prime Minister Bidizna Ivanishvili for supporting the activities of the CEC without interfering in its activities.
Kharatishvili said that today Georgian society is politicized, the language of hatred dominates and political opponents strive to destroy their rivals. Citing the words of the Georgian Catholicos-Patriarch Ilia II, Kharatishvili said the whole country has turned into a courtroom.
"Such an attitude will damage us both physically and spiritually." Kharatishvili stated.
However, he said his decision may cause certain inconveniences to the leading political parties who have to agree on selecting a new CEC chairman.
Earlier in the day, the CEC released a statement on their official webpage where they emphasized that the CEC is an independent institution with qualified staff. The statement added that Kharatishvili's resignation will not negatively affect the presidential elections scheduled on October 27, 2013. "All election procedures will be carried out in a transparent and fair way, according to the law." the statement reads.
Kharatishvili, resigned from his position on August 12th. Before the new CEC chairman is selected, Deputy Chairman Davit Kirtadze will temporarily perform Kharatishvili's duties.