Flaws in the socially vulnerable database
By Tatia Megeneishvili
Friday, August 16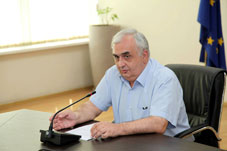 According to Noe Kinkladze, the head of the social services agency of the Ministry of Labour, Health and Social Affairs, more than 1400 business people have been were found in the database of the socially vulnerable. One entrepreneur's annual revenue is more than one million GEL.
Intensive collaboration between the social services agency and the Georgian Revenue Service began in January 2013. Information about individuals is given to the social services agency once a year.
Kinkladze stated at a press conference that from August, the individuals in question will no longer receive their subsistence allowance. He added that re-verification of their economic condition will begin soon. In the last year those individuals who have falsely claimed to be socially vulnerable have received 167,356 lari in benefits. "An investigation into the matter will begin soon." Kinkladze stated.
One entrepreneur, Eka Ramishvili, told Guria News that she has received social assistance since last year. "I was a business person but my business failed. Thus I am no longer an entrepreneur." she stated. Ramishvili is registered on the socially vulnerable database with 56450 points and for the last 6 months she has received 1,188 lari from the government.
To be eligible for financial assistance, each family registered in the unified database of the socially vulnerable must not exceed 57,000 units. Units are counted by gathering scores for each item of property. If the rating score of family is less than 57,001 they are eligible to receive financial assistance from the government. Individuals without families are eligible to receive 30 lari per month. In the case of families the oldest member is eligible to receive 30 lari montly and each subsequent member can receive up 24 lari montly. Socially vulnerable individuals receiving financial assistance must let social agency workers inside their home anytime between 8am to 10pm for inspection.