Alasania says previous administrations helped progress Georgia-NATO relations
By Ana Robakidze
Monday, August 26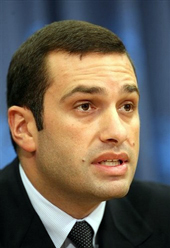 Defense Minister Irakli Alasania says the United States remains one of the steady guarantors of Georgia`s territorial integrity. The minister, who is on a visit to Washington, made the statement after his meeting with the U.S Defense Secretary Chuck Hagel. The two discussed Georgia`s Euro-Atlantic aspirations, as well as Georgia- Russian relationship and according to Alasania, he received guarantees "that Georgia`s de-occupation and territorial integrity, as well as NATO integration will be always a part of the Russian-American dialogue until the Russian Federation decides to withdraw its forces from Georgian territory."
After meeting the U.S Defense Secretary, Alsania visited Johns Hopkins University and took part in the roundtable discussions at the Central Asia-Caucasus Institute (CACI) Forum on "Georgia's National Security and Regional Security in the Caucasus". The meeting went on in an interactive format and Alasania spoke about the defence reforms and the priorities of the new government and particularly focused on the government's efforts to join NATO.
The minister stated that joining the North-Atlantic alliance is the government's top foreign policy and security priority. According to Alasania, Georgia has achieved enormous progress over the last years on the way to NATO integration and the alliance's decision to make Georgia part of the NATO Response Force in 2015 is proof to it. Alsania underscored the efforts of the previous governments and said the former administrations have also contributed a lot so the country in its approach to NATO membership.
"The Georgia that we see today is the hard work of a lot of people in the previous administrations. The first president was someone who brought Georgia independence, Eduard Sheverdnadze was the first one who actually started talking about NATO and the future of Georgia in NATO. Then the third president, Mikheil Saakashvili, made all the efforts to make progress and a lot of new initiatives were started to integrate more closely and to modernize the state. And we have to acknowledge this and appreciate this and base the forward movement on the solid ground that was built by previous administrations," the minister said in his speech.
The defence minister was not the only one in Washington who acknowledged efforts of Saakashvili's administration. Frederick Starr, the founder and Chairman of the CACI, stated after the meeting with Alasania that Georgia has been experiencing constant success on the way to NATO membership and Saakashvili has been a "champion" in this issue.
Georgian President Mikheil Saakashvili praised Alasania on his remarks and called him "the most adequate minister in the current government." Speaking with media at his Bobokvati residence, Saakashvili said his government has done a lot and people can confirm this.
According to the president, Alasania agrees that some military projects started by Saakashvili's administration have to be resubmitted, but the government opposes him and does everything possible to keep the projects suspended.