Ministers address Georgian diplomatic corps at annual ambassadorial
By Ana Robakidze
Wednesday, September 4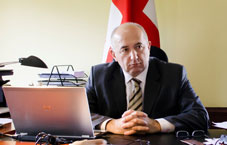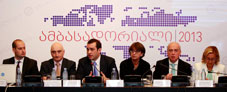 Tbilisi continues to host the annual ambassadorial, organized by the Ministry of Foreign Affairs of Georgia.
Members of the Georgian diplomatic corps and representatives of both legislative and executive authorities discussed the foreign challenges and their implementation means.
Several panels were arranged during the day. The first panel was lead by the Chairman of the Parliament David Usupashvili and the Minister of Justice Thea Tsulukiani and discussed the current political situation and reforms in the justice system. The following panels were dedicated to Euro-Atlantic integration and economic development.
The major issue discussed on the second day of the annual Ambassadorial was restoring and strengthening Georgia's territorial integrity.
State Minister of Reintegration, Paata Zakareishvili, presented his report on conflict settlement and peacekeeping policy. Zakareishvili discussed the current situation in conflict regions and the possible ways of solving the conflicts in the country. The state minister declared that the Georgian government will follow only a peaceful policy and will focus on starting direct negotiations with the Abkhazian and South Ossetian people.
According to the State Ministers Administration, Zakareishvili discussed the steps the government had already taken towards the conflict settlement, but he mainly focused on the future plans and the challenges the country will probably face next year. Zakareishvili says that the main challenges for Georgia are the barbed wire fences that were recently installed and restricting freedom of movement by the Russian occupation forces, as well as problems in human rights protection that has occurred in conflict regions.
After presenting his report, Zakareishvili spoke with Georgian ambassadors and discussed the issues Georgian diplomats will have to focus on. The minister stated that the policy of no recognition of the breakaway republics needs to be firmly supported by our partner countries. Therefore, Georgian diplomats play a huge role in this process.
In her speech delivered at the Ambassadorial, Foreign Minister Maia Panjikidze focused on the reforms in her ministry and the ways to turn the institution into a body that meets European standards.
According to the minister, it is vital to make sure that the Foreign Ministry is a powerful and independent institution that is able to operate under any circumstances. Panjikidze said that leading the country's foreign policy and establishing a refined diplomatic structure of the young state are two major challenges the ministry has to face at the moment and her administration is working hard to take necessary measures to reform the whole system.
Within the framework of the ambassadorial, Georgia's Public Defender, Ucha Nanuashvili, also held a meeting with the Georgian diplomatic corps.