Challenges of Georgia are discussed at the European Parliament
By Ana Robakidze
Thursday, September 5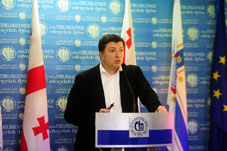 Georgia's progress on the way to European Union integration, and the problems and challenges the country faces, were discussed at the public hearing at the European Parliament in Brussels.
The session was attended by the European MPs, journalists and the representatives of the civil sector. The Georgian side was presented by the MPs from both the parliamentary majority and the minority, as well as by Tbilisi Mayor Gigi Ugulava.
"There is only one reality: Georgia remains a partner to the EU," Ugulava said after the session. According to the Tbilisi Mayor, he had a chance to speak about various issues in his speech.
Giorgi Baramidze, MP from the United National Movement (UNM) stated after the session that Georgia has strong support in the EU and most importantly, various European parties in Brussels express their support. "I am glad to say that we had very dynamic debates today," Baramidze stated after the meeting with the EU MPs. He also added that a similar format of the discussions helps to promote Georgia's position in the EU and gain more support from European institutions.
Participants of the session were interested in whether there were any cases of selective justice or any grave violations of human rights revealed recently.
Viktor Dolidze, Georgian MP from the parliamentary majority stated that he was very happy with the session and the remarks he heard from the European MPs. "We are open to accept criticism from any political group," Dolidze said after the meeting and added that the current situation in Georgia was very positively assessed in Brussels.
The session was initiated by the European Conservatives and Reformists Group, which is one of the most influential forces in the European Parliament and is represented on all the major committees.