Estonia to support Georgia at Vilnius Summit
By Ana Robakidze
Wednesday, September 11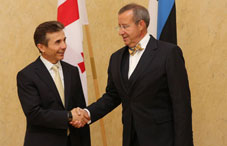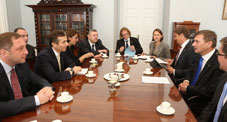 Prime Minister of Georgia Bidzina Ivanishvili paid an official visit to Estonia and met with his Estonian counterpart Andrus Ansip, President Thomas Hendrik Ilves, as well as Foreign Minister Urmas Paet and Parliament Speaker Ene Ergama.
At the meetings, PM discussed bilateral relations with Estonia and the issues related to Georgia's future integration with European Union (EU).
Ivanishvili discussed upcoming EU Eastern Partnership summit in Vilnius at the meeting with his Estonian counterpart. The Georgian PM revealed in Estonia that his country hopes to sign the Association Agreement with the EU before May 2014 and will do everything possible to approach the organization.
"I assured my counterpart that Georgia's new government continues moving towards the EU and NATO at a fast pace in order to become member of these organizations in the near future," Ivanishvili said.
The Estonian PM confirmed with Ivanishvili that his country fully supports initialing of the Association Agreement at the Vilnius summit and also Estonia hopes Georgia will sign an agreement on deep and comprehensive free trade area with the EU.
Georgia's EU integration was the major issue discussed at the meeting between PM Ivanishvili and Estonian President Thomas Hendrik Ilves. The PM thanked President Ilves for supporting Georgia's territorial integrity and active efforts in the process of Georgia's European integration.
The two agreed on the importance of intensifying political relations between the countries and the exchange of high-ranking visits.
Summarizing his visit, Ivanishvili said he received messages in Estonia that European counties are looking forward for Georgia to sign association agreement in nearest future. The PM said that Europe can clearly see that the new government of Georgia totally shares EU values and strives to establish and develop democratic institutions in the country.
In Estonia, Ivanishvili was accompanied by Foreign Minister Maia Panjikidze, Economy Minister and Deputy PM Giorgi Kvirikashvili, State Minister for European and Euro-Atlantic Integration, Alexi Petriashvili and head of the Georgian National Investment Agency, Giorgi Pertaia.
The delegation commented on the visit before departing from Estonia and said that the visit was very fruitful especially in terms of future economic relations. Economic ministers of Estonia and Georgia signed an agreement on cooperation in tourism, agreement on protection of bilateral investments.
"There is a great potential to expand economic relations (with Estonia) and we should work in this direction," Foreign Minister Maia Panjikidze said. According the Minister Estonian PM shall visit Georgia in near future. He is expected to arrive together with Estonian Business representatives in order to deepen economic relations between the two countries.