OSCE PA visits Georgia
By Ana Robakidze
Tuesday, September 17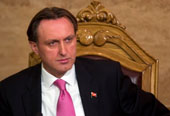 The President of the Parliamentary Assembly of OSCE and current President of the Parliament of Montenegro, Ranko Krivokapic, is paying his first official visit to Tbilisi. Krivokapic said he arrived in Georgia "to send the right messages" before the presidential election and strengthen the partnership ties between the OSCE and Georgia.
The OSCE is carefully monitoring the election environment in Georgia. The organization sent 24 long-term and 300 short-term observes to Georgia. The delegation held consultations at the Ministry of Foreign Affairs of Georgia and met Central Election Commission members.
OSCE Chairman-in-Office and Ukrainian Foreign Minister Leonid Kozhara appointed Joao Soares (MP, Portugal) to serve as OSCE Special coordinator and leader of the OSCE observer mission to the October 27 presidential election in Georgia. Soares was appointed on the recommendation of the OSCE PA President.
"As election observers, we will go to Georgia to report on a process, not judge the result… In particular, we will observe how inclusive the election process is in line with the country's own laws and its election-related commitments as an OSCE participating State," Soares said upon his appointment.
The OSCE Parliamentary Assembly is also sending its own delegation, lead by Finnish parliamentarian Ilkka Kanerva to observe the elections in Georgia. According to Kanerva, he can recognize "the significance of this vote for the people of Georgia." "I look forward to a robust and peaceful campaign in which all stakeholders are able to compete on a level playing field," he said.
The October Presidential election was the major issue discussed by at the meeting between Krivokapic and Parliament Chairman Davit Usupashvili.
The two held a joint press-conference after the meeting, where Krivokapic declared that over 50 OSCE observes will arrive several days ahead of the election and they will provide qualified observance of all related election procedures. The PA President also spoke about OSCE missions and said he fully supports restoration of the OSCE offices in Georgia.
"OSCE has replied to Foreign Minister's earlier request and the presidential elections will be held under the qualified observance of the organization" Usupashvili said at the press conference.
Krivokapic also held a meeting with Georgian representatives to the OSCE Parliamentary Assembly. The MPs informed Krivokapic that the Georgina side would like to have an OSCE special office operating in the country and to monitor human rights protection and development of democracy in the country.
The OSCE PA President will stay in Tbilisi for two more days. He has planned meetings with both the legislative and executive branches, as well as with President Mihkeil Saakashvili and PM Bidzina Ivanishvili.