Meetings continue in Ergneti
By Ana Robakidze
Wednesday, September 18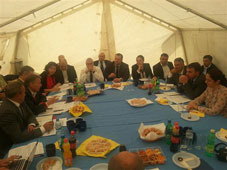 The Incident Prevention and Response Mechanism (IPRM) meeting took place in Ergneti on September 16. The participants reviewed the incidents and occurrences that have taken place since the previous IPRM meeting.
The 37th meeting co-facilitated by the Head of the EUMM, Gerard A. Fischer and Ambassador Andrii Deshchytsia, the Special Representative of the OSCE Chairperson-in-Office for Conflicts, lasted for 6 hours. The co-facilitators of the meeting expressed appreciation for the willingness of the participants to cooperate in defusing tense situations. However, the meeting did not turn out to be fruitful.
Participants complained after the meeting that it appeared to be the most difficult and it was impossible to negotiate with the South Ossetian side. Representatives of the break-away region started to argue about terms and geographic names. They declared that there was no place called Akhalgori, instead it had to be called Leningori.
The Ministry of Internal Affairs was very dissatisfied with the meetings. Representative of the ministry, Kakha Kemoklidze, said that the South Ossetian side had not prepared for the meeting and could not answer the questions other participants had. The Georgian side is particularly concerned over the planned regulations that the South Ossetian administration has initiated. The regulations establish restrictions passing the check-point to Akhalgori. Also, the restrictions will be established on weight and cargo. Kemoklidze says this is a serious violation of freedom of movement of the local population.
In case the defacto government of South Ossetia does not abolish the planned restrictions, the Foreign Ministry of Georgia is going to escalate the issue and set it as the main topic for the upcoming Geneva Talks in November. The regulations are planned to enter force starting from September 18.
The safety of the local population during the harvest season was probably the only topic the parties could agree on at the meeting. The participants agreed on the establishment of an informal mechanism to look into the livestock issues at the ABL.
According to the EUMM the continued installation of fences along the Administrative Boundary Line (ABL) and its adverse effects on the livelihoods of the local population were mentioned. A joint visit of participants to places of concern at the ABL was proposed.
The parties could neither negotiate on the installation of fences. Moreover, on September 17, Russian occupation forces resumed border demarcation work along the occupation line in village Ditsi.
EUMM has been on the spot throughout the day. In a special statement released on Tuesday the Mission called on all parties to show restraint and focus on local communitiesí concerns. EUMM will continue to closely monitor the situation in the area.