NDI poll shows majority hopes Ivanishvili will not step down
By Ana Robakidze
Wednesday, September 25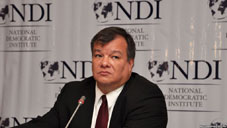 The National Democratic Institute (NDI) published its latest survey looking into public attitudes towards issues of public importance, perceptions of democracy and attitudes toward reforms, as well as various domestic and foreign policy issues.
The survey clearly shows that unemployment remains to be a major problem. 63% of poll respondents ranked it as number one, while the cost of communal services is the top local issue at 46%, followed by territorial integrity (35%) and affordable healthcare (29%).
A majority of respondents disapproved PM Bidzina Ivanishvili's decision to step down after the October election. Also, only 39% percent of poll respondents think that Georgia is headed in the right direction, compared to 16% who disagree. Compared to a similar survey published in June 2013, the number of those who support the direction Georgia is heading decreased by 45%.
The survey shows that 73% support the country's integration with NATO and 81% support integration with European Union. An absolute majority (70%) of respondents are dissatisfied with Georgia's current relationship with Russia, while 76% approve the country's decision to participate in the 2014 Winter Olympic Games in Sochi.
Respondents were also asked about the changes they could have noticed in the level of crime and unemployment after the October Parliamentary elections. 31% of respondents said that level of crime has increased, while 45% said it has not changed. 54% of poll respondents say that nothing has changed in terms of unemployment and 32% is think that the number of available jobs has decreased.
Chairman of the Center for Social Studies, Marina Muskhelishvili told the Georgian Service of Radio Liberty that politicians usually pay great attention to similar surveys to the one presented by NDI, as surveys help them to evaluate the effect their election campaign promises has made on the population. However, the results cannot have a direct effect on the politicians' future decisions. Muskhelishvili said that a great majority disapproves of Ivanishvili's intention to step down, but similar surveys cannot have an impact on the PM's final decision to leave the politics.
Another Georgian expert, Ilia State University Professor Levan Tarkhnishvili says the survey results showing that 70% of the respondents are not happy with Georgia-Russia relations are very logical. He told Radio Liberty that majority hoped for immediate improvement in relations with Russia and on the other hand many Georgians think leading a mild policy in the relations with Russia is also a big problem.
The survey results reflect data collected from August 18 through September 3 from face-to-face interviews with a nationwide representative sample of Georgian speakers that included 3,838 completed interviews. NDI plans to present the ratings of political parties on September 26. According to Radio Liberty, NDI will have no more surveys before the presidential election scheduled on October 27.