Georgians sign petition to protest Sochi Olympic Games
By Ana Robakidze
Wednesday, October 9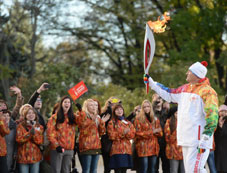 Russian news agency Lenta.ru says "Georgia forgives Russia torchbearer – South Ossetia's war hero." The article was published on October 7. The agency replied to the statements of the Georgian government and National Olympic Committee released a day earlier.
The article says that despite President Saakashvili's address to the committee to make the "correct decision", "the National Olympic Committee of Georgia does not see any reasons to revise the decision about the country's participation in the Sochi Olympic Games 2014. "The agency cites the official statement of the Georgian government and says Georgia finds making pilot Ivan Nechaev one of the torchbearers to be a "provocative" action from the Russian side. However, Russia seems to be forgiven, Lenta.ru states.
The news of making the "August war hero" one of the torchbearers has caused already caused strong reaction among Georgians and intensified discussions whether Georgian athletes should participate in the games or not.
A petition to protest the Olympic Games appeared online and was initiated by the International Society for Fair Elections and Democracy (ISFED) and Transparency International Georgia. Around 500 signatures appeared on the petition within the first couple hours, after it appeared online. Signatories include representatives of civil society and non-governmental organizations.
The petition is addressed to Prime Minister Bidzina Ivanishvili, Chairman of the National Olympic Committee Leri Khabelov and to the Minister of Sport and Youth Affairs Levan Kipiani. Signatories call on the responsible institutions to revoke the decision. The partition says that considering the latest developments in the conflict regions, the constant process of occupation and numerous violations of the citizens' rights living along the occupation line, the only adequate reaction of the government should be protesting the games.
"Protesting Sochi Olympic games 2014 will be a message sent to the international community to show that the Georgian government will never agree with Russian occupation," the petition states.
"Russia has violated all the possible international norms against Georgia. Therefore, boycotting the games should be the only adequate reaction of the Georgian Government," Executive Director of Transparency International Georgia, Eka Gigauri said. She was the first to join the petition, together with her colleagues from the organization.
Former Foreign Minister of Georgia, Grigol Vashadze, also suggests that the government boycott the games, or alternatively send Georgian athletes to participate in the Games, but under the Olympic flag. "In this case they will be representing the International Olympic Committee and themselves only, but not Georgia," Vashadze said at the press conference, he held on October 8th.
Anyone opposing Georgia's participation in the Sochi Olympic Games can join the petition.
However, if the petition does not work, non-governmental organizations do not exclude the possibility of arranging peaceful demonstrations.