Minister: Over 9 million bottles of Georgian wine sent to Russia
Monday, October 14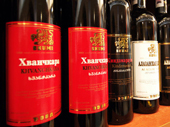 Russia has opened its market for Georgian agricultural products, Georgian Agriculture Minister Shalva Pipia said at a briefing on Thursday.
"On October 10, the Head of the Federal Service for Veterinary and Phytosanitary Surveillance of Russia, signed a document that abolished all restrictions on imports of hazelnuts, grapes, apples, pears, quinces, citrus plants and other crop products from Georgia to Russia. Our delegation led by the head of the National Food Agency of Georgia is departing for Russia. From October 14 the Russian market will be open for the products I mentioned," Pipia said.
He reiterated that Georgia's current government has been regularly working to bring back Georgian products to the Russian market, and this work has provided the first results in June. At that time, the Russian market was opened to Georgian wine and mineral waters, as well as to low-risk products - tea, bay leaf and dried fruits. After the opening of the Russian market and amid a search for new markets, the export of wine and mineral waters from Georgia has already increased by 70 percent, the Minister said.
According to him, over 9 million bottles of Georgian wine have been exported from Georgia thus far.
(Trend)