42nd Battalion back home from Afghanistan
Friday, October 18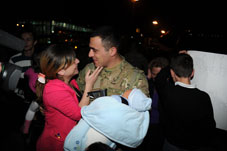 The 42nd Battalion of the IV Light Infantry Brigade completed its tour of duty in Afghanistan successfully. All military servicemen of the battalion have returned home. Georgian peacekeepers participated in the ISAF mission in Afghanistan during the last six months. They performed the full spectrum of operations shoulder to shoulder with U.S. Marine Forces.
According to the Ministry of Defense, the Georgian soldiers conducted various military and humanitarian operations that prevented insurgent activities in the region and improved the security of the local population which resulted in raising trust towards the coalition forces, Afghan National Security Forces and the local government.
The 42nd Battalion has been replaced in Afghanistan by the Batumi Separate Light Infantry Battalion. They have already take control over the operational area. An official rotation ceremony was held at the military base "Eredvi" in the presence of Regional Command Southwest representatives together with Georgian commanders. The leadership of the peacekeeping mission stated their appreciation for the 42nd Battalion's activities in Afghanistan.
While the 42nd Battalion was carrying out the ISAF mission, the Ministry of Defense delegation made an official visit to the Islamic Republic of Afghanistan. Minister of Defense Irakli Alasania and Deputy Chief of the Joint Staff of GAF, Colonel Vladimer Chachibaia, arrived at the Georgian base "Eredvi" in Helmand province to visit soldiers of the 42nd Battalion. Alasania became more familiar with the operative environment in the Georgian unit's area of responsibility. The minister awarded Georgian servicemen with service medals "General Mazniashvili" and "Devoted to the Motherland".
The rotation of the 42nd Battalion lasted for a month. Defense Minister Irakli Alasania greeted soldiers at the airport and congratulated them on a peaceful return home. "I'd like to mention with pride that they are highly professional soldiers protecting both the world's and Georgia's security. I wish them great success."
Corporal Giorgi Chaduneli was met by his wife and a three week old baby at the airport. He learnt about the birth of the child only after returning home. The pupils and teachers of Rustavi N2 Public School also came to the airport to welcome the soldiers' arrival in Georgia. The soldiers presented the school with a Georgian flag.
Deputy Defense Minister Mikheil Darchiashvili; Chief of the JS of GAF, Colonel Irakli Dzneladze; First Deputy Chief of the JS, Brigadier-General Vakhtang Kapanadze, Head of the IV Infantry Brigade, Colonel Zaza Leladze and other JS officers and family members of the soldiers always meet Georgian soldiers at the airport upon their return to Georgia.