Minister of Defense meets with chaplains and members of ethnic minorities
Friday, October 18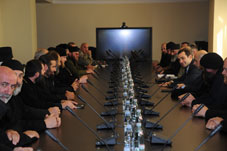 The Ministry of Defense of Georgia pays great attention to the rights of ethnic and religious minorities serving within the Georgian military. The Minister of Defense recently held a series of meetings with military chaplains and ethnic minority representatives recently.
At the meeting with the military chaplains, the Minister of Defense became familiar with the spiritual needs of soldiers. "We pay great attention to cooperation between the church and the army. We have reiterated many times that if a soldier does not have a strong belief he would not be able to sacrifice his life for his country. We discussed the problems persisting in society and the army and our future plans in this regard. We are working on a policy how to make their work more effective. We also focused on respecting the rights of religious minorities." the Defense Minister stated.
The creation of a psychological rehabilitation programs for soldiers was a topic of discussion at the meeting. The project envisages the active involvement of chaplains along with psychologists. The importance of education and ways to increase military soldiers' motivation were also discussed.
The Minister of Defense also met with ethnic Azeri soldiers serving in the Georgian Army to listen to their problems and find ways to make members of ethnic minorities feel proud as Georgian citizens.