Minister continues inspection of ongoing infrastructure projects
Friday, October 18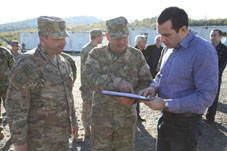 Minister of Defense Irakli Alasania recently inspected various Georgian military bases. Alasania first met with the V Infantry Brigade located in the Gori region. He became personally acquainted with construction and rehabilitation activities on the base. Mess halls and check points are being built and restored for the GAF personnel. The working personnel thoroughly informed the minister about the ongoing rehabilitation and construction activities as well as planned infrastructural projects.
In the Gori region, the defense minister also visited a block of flats being built for military servicemen. Currently, repair work is underway and several flats are specially adapted and equipped for wounded soldiers.
The defense minister also became familiar with the construction activities of military units of the Western Operative Grouping. Alasania visited the Batumi Light Infantry Battalion. Currently, barracks and medical facilities are being repaired there. A new boiler-house will be also built. The minister also visited the II Infantry Brigade base in the Samegrelo region. The builders briefed Alasania on the construction process there.
Alasania also visited the Simoneti firing range. He viewed a field camp and a shooting ground. Following that, Irakli Alasania visited the III Infantry Brigade and the II Artillery Brigade in Khoni to view the ongoing repair works there. The minister inspected rehabilitation of barracks, drill grounds and water supply systems. Currently reservoirs are being restored and outdoor toilets have been constructed. "Our soldiers are serving their country. Our government should offer them maximum support to be able to perform an entrusted mission in a dignified manner. Infrastructural projects this year have reached the final stage. This will continue into the next year as well. Now, we are observing the situation. I hope that everything will be finished in time because it will raise the morale of our soldiers. I am proud that we are able to build new infrastructure for our military." Irakli Alasania stated.