Ivanishvili meets with representatives from the print media and radio
By Tatia Megeneishvili
Friday, October 18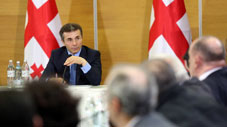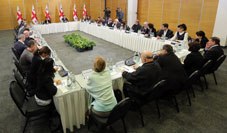 "I will do more for the country by my resignation." Prime Minister Bidzina Ivanishvili said at a meeting with chief editors of the print media and radio stations on October 17th. Stressing that the new prime minister will be very effective, Ivanishvili promised he will criticize the government or even meet his former cabinet members if possible.
Ivanishvili is confident that the Georgian Dream coalition will remain in power through at least the next parliamentary elections but welcomes a more pluralized political environment in Georgia.
Ivanishvili expressed his confidence that no presidential election run-off will be necessary. "It would be insulting for me if Giorgi Margvelashvili receives less than 60% of the vote. My enthusiasm for politics will slightly decline if that happens."
Ivanishvili said that if a presidential election run-off is necessary, then he will advise Margvelashvili to withdraw from the race. He explained he would only advise and not dictate to Margvelashvili how to act. "It is up to Giorgi [Margvelashvili] to decide. No one should think that someone can impose something on him. I cannot make him accept my decision, but I know Giorgi, he will not go for it without confidence that people really trust him." the prime minister stated.
Ivanishvili thinks that if Margvelashvili gains less than 60% of the vote it will mean that the public has serious doubts over Georgian Dream's policies.
"For two years I have been working day and night, not even allowing myself to get ill. But if the public assesses these efforts in a different way, then of course I will set myself free from this burden and will not impose my services on anyone," Ivanishvili said.
Ivanishvili also discussed the various other presidential candidates. Ivanishvili thinks UNM candidate Davit Bakradze is better positioned to take second place in the race than Nino Burjanadze, leader of Democratic Movement-United Georgia. Ivanishvili called Labor Party leader Shalva Natelashvili a "liar" and described Christian-Democratic Movement leader Giorgi Targamadze "a betrayer of his country". In response, Targamadze threatened to sue Ivanishvili for slander.
Ivanishvili called on the Georgian public to not be lazy and go to polling stations on October 27th.