EUMM and State Commission visit villages in the conflict region
By Ana Robakidze
Tuesday, October 22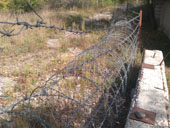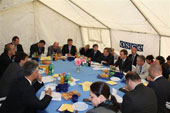 The temporary government commission, together with the representative of the Ministry of Internal Affairs (MIA) visited the villages located near the line of occupation in the Shida Kartli region. The commission met with the locals in order to identify the major problems in the region.
According to the MIA "representatives of various ministries got acquainted with the recent situation on the ground and informed locals regarding the ongoing and scheduled projects which are planned to be implemented in the regions."
"First of all, we are informing people on the current work of the commission and also providing them with the info regarding the planned projects," said State Minister for Integration and head of the commission, Paata Zakareishvili.
According the Minister of Regional Development and Infrastructure, Davit Narmania, Prime Minister Bidzina Ivanishvili has instructed the government to carry out as many projects in the conflict region as possible, to facilitate the daily problems of the population along the occupation line.
Damaged roads and lack of water remain the major problems in the regions. Therefore, the government is going to carry out a number of infrastructural projects in the regions.
Nonregistered agricultural lands are one of the major problems people have in the conflict region. Locals asked the commission for help with administrative procedures so people could finally register their property rights on land.
The commission has finished its work along the administrative border with the breakaway region of South Ossetia and from next week, members of the commission will start their trips to villages in western Georgia which are located near the occupation line with Abkhazia.
Head of EUMM, Toivo Klaar and Ambassador Andrii Deshchytsia, the Special Representative of the OSCE Chairperson-in-Office for Conflicts, also visited Ergneti, one of the villages in the conflict region and participated in the 38th meeting under the Incident Prevention and Response Mechanism (IPRM).
Participants once again discussed the continued installation of fences along the Administrative Boundary Line and its adverse effects on the livelihood of the local population, issues related to detained and missing persons, as well as other incidents and occurrences that have taken place since the previous IPRM meeting.