UNDP presents Georgian public's priorities
By Tatia Megeneishvili
Friday, October 25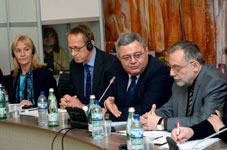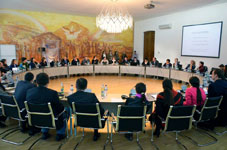 The preliminary results of the United National global survey MY World in Georgia were announced at Tbilisi State University on United Nations Day on October 24th.
The results were presented by Niels Scott, UN Resident Coordinator and UNDP Resident Representative in Georgia; Davit Usupashvili, Chairperson of the Parliament of Georgia; Lado Papava, Rector of Tbilisi State University (TSU) and Inita Paulovica, the deputy head of the UNDP in Georgia.
The preliminary data shows that 78% of the Georgian public thinks that education is a major priority. Jobs and health care were also cited as major priorities. 49% of survey participants also cited good governance as a major priority.
The opinions of over 3000 people in Georgia have been captured since the survey began in August 2013. The data was acquired through in-depth focus groups, online platforms and SMS voting.
The priorities of the Georgian public roughly correspond to the priorities of people worldwide.
MY World is a UN global initiative designed to consult with people worldwide on what their priorities are for the next decade and what kind of world they would like to live in. The program runs in over 190 countries and includes focus group discussions and an online survey on such issues as crime, education, health care and corruption.