Georgia passes democracy test
By Ana Robakidze
Wednesday, October 30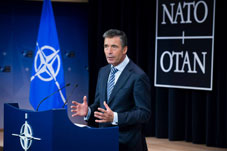 The international community is actively praising Georgia for holding democratic and calm elections and electing a new president in accordance with international standards.
NATO's web-page published the official statement of the Secretary General, Anders Fogh Rasmussen, who uses the Georgian experience as an example and calls on politicians to continue the same way and cooperate for the better future of the country.
"I encourage all political forces in the country to continue working together to achieve Georgia's ambitious reforms agenda," Rasmussen stated. He congratulated "the Georgian people on holding transparent and peaceful presidential elections in which fundamental freedoms of expression, movement, and assembly were respected" and on passing "yet another test of democracy".
The Secretary General congratulated Giorgi Margvelashvili on his new post and confirmed that NATO will continue working with the new president and his team.
Georgia received congratulations from European partner countries from the European Union and the U.S Department of State as well.
"We witnessed another historic day for all Georgians and an important step in Georgia's democratic development and its embrace of Euro-Atlantic institutions. This election clearly represented the will of the people," the official web-page of the Department of State says. The Department declares full trust to the OSCE's international election observation mission and its conclusion that the election took place in an amicable and constructive environment.
The U.S confirms that cooperation between the two countries will continue. We are looking forward "to working with the president-elect, the government, parliament, and the people of Georgia, to build upon our strong strategic partnership, to foster Georgia's Euro-Atlantic aspirations, and to continue to support a brighter future for the Georgian people."
EU High Representative for Foreign Affairs and Security Policy, Catherine Ashton, and Commissioner for European Neighbourhood Policy, Stefan Fule released a joint statement and congratulated the Georgian people on the demonstration of "their country's strong democratic credentials."
The EU Commissioners hope that President-Elect Margvelashvili will closely cooperate with the government and Georgian Parliament including opposition parties. They also market the significance of the elections as it took place right before the Vilnius Summit.
"On the eve of the Eastern Partnership Summit in Vilnius, which will mark a significant step forward in EU-Georgia relations, we look forward to continued close cooperation with Georgia on our ambitious mutual agenda of political association and economic integration," the joint statement says.
Presidents of the neighboring countries have also congratulated Georgia with the new president.
Although Margvelashvili has not received congratulation from his Russian counterpart, Russian Foreign Minister Sergey Lavrov did comment on the election and said that the Georgian policy in relations with his country should be changed after the new president takes his office. He hopes the countries will establish kind and friendly relations.
Lavrov congratulated the Georgia on its free and fair elections and expressed his hope that diplomatic ties will be restored between the two countries.