Saakashvili visits Brussels
By Ana Robakidze
Thursday, October 31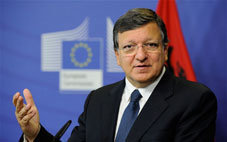 Outgoing president of Georgia, Mikheil Saakashvili, visited Brussels and met the President of the European Commission Jose Manuel Barroso in Brussels on October 29. He also met with leaders of the European Union.
Georgia is looking forward to initialing the Association Agreement with the EU during the upcoming Vilnius summit of the Eastern Partnership.
According to Saakashvili, the visit is important ahead of the Vilnius summit and will be symbolic to end his presidential term.
"We hope that the initialing of the Association Agreement between the EU and Georgia will happen at the summit in Vilnius," Barroso stated after the meeting with the Georgian President. He emphasized the "remarkable progress" Georgia has achieved "during President Saakashvili's term" and added that the Vilnius summit will be only a starting point and the EU needs to think ahead on how to sustain Georgia's important achievements over time.
The President of European Commission considers Saakashvili to be a controversial leader, "but that's point in democracies" he stated.
EU expects "Georgia to honor its obligations, such as ensuring that the courts operate free of political influence," Barrosso stated at the joint press conference held after his meeting with Saakashvili.
"In democracies when one makes a choice, we cannot have the support of everybody all the time… The point is that… in the strategic perspective, today Georgia is stronger, more modern, and hopefully more democratic," Barroso said.
According to Saakashvili, Barroso assured him that the EU considers Georgia to be a stable country. He hopes the Vilnius summit will become "final and simultaneously symbolic act" of his term.
The outgoing Georgian President also attended a conference held on behalf of the Konrad Adenauer Foundation in Brussels.
Head of the Konrad Adenaur Foundation Stefan Gehrold, presented Saakashvili to the audience, introducing him as a progressive, pro-democrat and reformer leader, trusted by his people.
Saakashvili addressed the diplomats and experts from various countries who were attending the event. Georgina president summarized his government's work and the reforms carried out in Georgia.