Latvia to support Georgia at Vilnius summit
By Ana Robakidze
Wednesday, November 6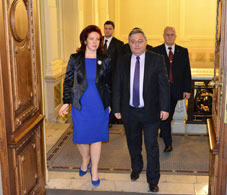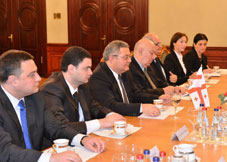 Chairman of the Georgian Parliament, David Usupashvili, is paying officials visit to Latvia and Lithuania. He met with his Latvian counterpart, Solvita Aboltina on November 5th. The two discussed the presidential election in Georgia, the upcoming Vilnius Summit, the initialing of an association agreement between the EU and Georgia, and bilateral parliamentary relations. Usupashvili provided his counterpart with detailed information about the constitutional changes Georgia has been carrying out recently, as well as about the emphasized capacity building and the increase of budgetary authorities of the parliament.
Aboltina praised Georgia's achievements and for holding a successful presidential election. She promised to provide the Georgian delegation with full support at the Vilnius Summit. Usupashvili and his counterpart agreed to enhance economic relations between the two countries.
In terms of deepening parliamentary relations, the parties agreed to hold bilateral meeting of the foreign committees.
After the meeting the speakers held a joint briefing. According to Usupashvili, Georgia is gradually approaching its long-standing dream to become an EU member.
"It is very important in the few days before the Vilnius Summit to see that Georgia is gradually approaching its long-standing dream to integrate with the European family…This is the result of many years of work of the previous government and many years of support of your country. I want to thank you for this," Usupashvili said.
Aboltina expressed her hope that Georgia will be able to initial the Association Agreement at the Vilnius Summit.
"The Eastern Partnership summit will be held in Vilnius and we sincerely hope the agreement between Georgia and the EU will be initiated…We also hope to see the document signed in 2015," Aboltina stated.
Usupashvili also had meetings with the Latvian President, Latvian PM, and Latvian Foreign Minister.
At the meetings Usupashvili was once again promised to receive Latvian support in Vilnius.
The Georgian speaker departed from Riga on November 5th to continue his official trip in Lithuania.
In Vilnius, Usupashvili will hold meetings with the President of Lithuania, the Speaker of Parliament, Minister of Foreign Affairs, the Prime Minister and members of the European Parliament.