Georgian and Russian representatives meet at 25th round of Geneva Talks
By Ana Robakidze
Thursday, November 7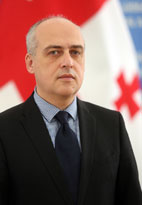 The 25th round of the international negotiations took place in Geneva November 5-6. The Georgian delegation was chaired by the First Deputy Foreign Minister David Zalkaliani.
The delegation had announced before the departure to Geneva that at the talks a strong protest would be expressed regarding the recent situation in the occupied regions and the installation of barbed wire along the occupation line. The issue of using force was thoroughly considered during the discussions.
The Georgian side also has a number of complaints regarding the violation of terms of security and human rights by the Russian side.
Ketevan Tsikhelashvili, Deputy Minister of Reintegration, stated earlier this week that Georgia was going to raise the issue of the humanitarian situation of the local population as a result of Russian soldiers installing barbed wire.
"Another major issue is the issue of returning IDPs, and this will remain on our agenda," Tsikhelashvili said.
The format of the talks has not been changed, as it was requested numerously by the break-away regions of Abkhazia and South Ossetia, therefore the talks were held in two working groups dealing with security issues and humanitarian issues respectively.
To make Georgia sign an agreement with Abkhazia and South Ossetia on the non-use of force, still remains one of the Russian priorities at the Geneva talks.
De-facto Foreign Minister of Abkhazia, Viacheslav Chirikrba, also hopes that the Geneva Talks will help the breakaway region to sign an agreement with Georgia on ceasing hostilities. Chikirba stated in Geneva that Abkhazians expect the agreement to be signed during the following round of Geneva Talks, scheduled to take place on December 17-18th.
However, the Georgian government has stated numerous times before, that Abkhazia and South Ossetia do not exist as independent states. Therefore no agreement will be signed with them.