Georgia refuses to sign agreement with breakaway regions on non-use of force
By Ana Robakidze
Friday, November 8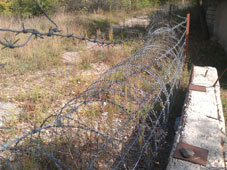 Georgia once again refused to enter into an agreement with the breakaway regions of Abkhazia and South Ossetia on the non-use of force. Signing an agreement between Georgia and the separatist regions was one of the major demands the Russian side had at the 25th Geneva Talks. Overall, this round of negotiations turned out to be tense. The Georgian side focused on the situation in the villages of Ditsi and Dvani, where the process of "borderization" has been launched by Russian occupying forces.
After the talks, held on November 5th-6th, Georgian Deputy Foreign Minister Davit Zalkaliani stated that Georgia is not going to reconsider its decision. Overall, Zalkaliani is happy with the 25th round. He said the Georgian delegation reminded the Russians about their obligation to sign an agreement on the non-resumption of war.
"We also drew the co-chairs' attention to the need to sign an agreement on the non-resumption of war with the Russian side. Georgia has unilaterally assumed this obligation and now it is Russia's turn." Zalkaniani stated.
However, the Russians continue to insist that an agreement should be signed by Georgia, Russia, Abkhazia and South Ossetia.
Zalkaliani said the Georgian side was also able to convey to partners and co-chairs at the meeting its concern with the arrangement of the administrative line between South Ossetia and Georgia proper.
However, Georgia's concern over the barbed wire fence erected by Russian soldiers is not shared by the de facto South Ossetian government. According to South Ossetian representative Murat Dzhioev, the barbed wire fences represent historic borders and their construction will continue in the future.
According to Dzhioev, the declaration by the participants at the Geneva Talks on the non use of force has no legal weight and is simply a declaration of principles.
First Deputy Foreign Minister of Russia Grigory Karasin noted after the meetings that he had expected "more flexibility" from the Georgian delegation.
Eric Rubin, Deputy U.S. Assistant Secretary of State for European and Eurasian Affairs, reviewed the outcome of the Geneva Talks in his interview with Georgian TV Channel Rustavi 2.
According to Rubin, the negotiations, which have been ongoing for five years now, have made very slow progress. Despite the lack of success, Rubin still thinks the Geneva Talks have great significance in terms of keeping peace and stability in the region.
"At the Geneva negotiations we always clearly express support for Georgia's territorial integrity. We always talk about the continued occupation and IDPs. That is why this format was established. Three co-chairmen conducted the discussions today successfully, but I do not want to make a false impression - this is not a simple process and progress after five years of talks is very small." Rubin stated.
The 26th round of Geneva Talks is scheduled for mid December 2013.