Georgia receives support from Baltic countries
By Ana Robakidze
Monday, November 11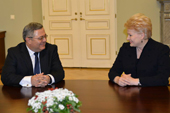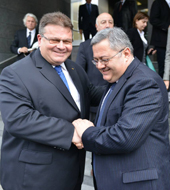 Georgian Parliamentary Speaker, Davit Usupashvili, summarized his visit to Latvia and Lithuania at a press conference held in Vilnius and thanked those countries for supporting Georgia on its way to European integration.
"I had very fruitful visits to Latvia and Lithuania," Usupashvili said.
He said Georgia has friends and they are ready to support the country at the Vilnius Summit, as well as at the NATO summit, which will take place in 2014.
"We see unprecedented assistance from them for Georgia becoming a member of Europe…Latvia and Lithuania are the most active members of the EU which support enlargement of the EU," Usupashvili said.
He also stated that Georgia still has a lot of work to do in making sure its partner countries continue lobbying for its interests regarding the European and international arena.
Usupashvili departed from Riga on November 7th and arrived in Vilnius to hold a number of meetings in Lithuania and to discuss important details and issues regarding the upcoming Vilnius Summit. Usupashvili had meetings with the president, the foreign minister of Lithuania, as well as with his counterpart and other high-ranking officials.
President Dalia Grybauskaite met Usupashvili on November 7. The two discussed bilateral relations between Georgia and Lithuania, Georgia's progress on the way to European integration and preparations for the Vilnius summit.
According to Grybauskaite, avoiding justice or the abuse of political opponents, ensuring transparent legal proceedings, fair trials and the rule of law, is the only way for Georgia to integrate with the European Union.
"The situation of minorities also needs to be improved. Other necessary steps include adoption of anti-discriminatory and data protection laws and fighting corruption," she said at the meeting.
The official press release released after the meeting by the president's administration states that "the summit is expected to see the signing of an Association Agreement with Georgia, including a free trade agreement."
Lithuanian Foreign Minister Linas Linkevicius, praised Georgia for its achievements and its firm determination to follow the path to democracy. He told Usupashvili that the country is undoubtedly among the Eastern Partnership program's leaders.
"It is important to continue to ensure compliance with the democratic principles of pluralism and the rule of law," Linkevicius said.
At the meeting, the Lithuanian Foreign Minister assigned great importance to liberalizing the visa regime between EU member states and Georgia and on the necessary procedures after the Vilnius Summit. He and Usupashvili agreed that it is time to start procedural arrangements, to make sure all necessary papers are prepared, signed and ratified on time.
Usupashvili assured the Lithuanian Foreign Minister that the new Georgian government is not going to change the foreign policy and the country remains EU oriented.
"We will remain a stable partner for the West," Usupashvili stated at the meeting.
The parliamentary delegation of Georgia included members of the ruling coalition and the opposition as well. The delegation returned to Tbilisi on November 9th.