Geneva negotiations: deadlock
By Messenger Staff
Monday, November 11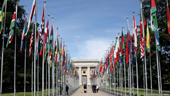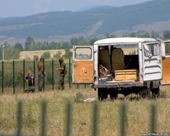 The 25th round of the Geneva negotiations were completed on November 6th. Georgian-Russian talks over the issues concerning the 2008 Russian invasion of Georgia have been taking place since 2008. At Russia's request, representatives of the breakaway Abkhazia and Tskhinvali region also participate in the negotiations.
The talks are being conducted for the sake of discussions only, because no viable results have yet been achieved. Russia attempts to achieve the recognition of the breakaway regimes as juridical entities, if not directly, at least partially. For this reason, it tries to force Georgia to sign an agreement on the non-use of force with the Sokhumi and Tskhinvali regimes directly. Meanwhile, Georgia refuses to do so, because in this way it would indirectly admit the breakaway territories as equal juridical entities.
The Georgian side mainly stresses the humanitarian isssues which includes the return of IDPs to their original homes and the right of the residents of the conflict zone to travel in the area freely.
During the 25th round of the negotiations in Geneva, the Georgian side raised the question of the newly erected barbed-wire fences which were installed along the administrative border dividing the Georgian mainland and its breakaway territories from each other by Russsian soldiers.
Russian Deputy Foreign Minister, Gregory Karasin, who headed the representatives of the Russians and separatists in Geneva, stated that this is the construction of the border between the two independent states.
The Russian side wants to create an international opinion about the "new reality" as if there are two independent states on Georgian territory. However, this reality is only recognized by Russia and a couple of tiny, non-influential states, while the rest of the world respects the territorial integrity of Georgia. In return, Georgia demands from Russia the non-use of force.
The Russian side stubbornly and arrogantly continues stating that it is not occupying Georgian territories. According to Moscow, these territories are independent states and the Russian military has been invited there by the people of Abkhazia and South Ossetia.
It is clear that the Russian position is cynical, as the whole world recognizes Russia's occupation of Georgian territories, despite the excuses, explanations, and pseudo-logic the Russan side provides as justification.
Even though the Geneva negotiations have yet to yield any tangible results, all the participating states, as well as international organizations and the US support the idea of conducting these negotiations.
The next round of negotiations have been scheduled for December 17-18, 2013.