A chance for the non-parliamentary opposition
By Messenger Staff
Tuesday, November 12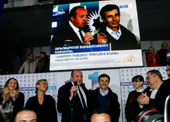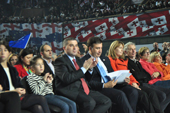 There are two dominating political forces currently in Georgia. These are: the Georgian Dream current administration and the former government United National Movement (UNM). The presidential election vividly showed that apart from these two parties, only Nino Burjanadze's Democratic Movement-United Georgia has some prospect of participating in Georgia's political life, whereas the other political entities, which number 5 or 6, are doomed to disappear if urgent steps are not taken by their leaders, targeted either towards unification or by making some radical changes in their strategies.
These non-parliamentary opposition members intensively speculate that the political arena in Georgia is monopolized by the Georgian Dream and the UNM who are not interested in changing the essential situation in the country. Therefore, they think it is unlikely that these two parties will support the idea of holding a snap parliamentary election.
The idea that a snap election will radically change the configuration of the parliament is an illusion. The recent presidential election showed that the chances of success for the non-parliamentary parties, is close to zero. Most of the candidates aside from the aforementioned, received less than 1% of the votes.
Since regaining its independence and starting to build a democratic society, there has been speculation in Georgia about the unification the various political forces, but mostly there is nothing positive coming out of this.
Only the appearance of charismatic leaders will create the grounds for united efforts, but this lasts for a very short period. For instance, there was a relatively successful attempt by the Georgian opposition to unite in late 2007. This amalgamation of the political opposition took part in the 2008 presidential election, and later – the parliamentary election, where it showed a generally satisfactory performance.
Today the situation is such that if the opposition does not unite its efforts the distribution of positions during the self-government elections this coming spring, will be divided between the Georgian Dream administration and the UNM.
Some leaders of the non-parliamentary opposition have already put forth various ideas for unification. They highlight the necessity for beginning consultations on the possible creation of an amalgamation; some political parties have already started taking certain small steps in this direction. But, time flies quickly and the election is coming closer.
Of course, the local elections will not essentially reshuffle the configuration of the political forces in the country, but in any case, it might give some impulses to the new political forces and figures in the country.