Government commission meets with donors and the diplomatic corps
By Ana Robakidze
Wednesday, November 13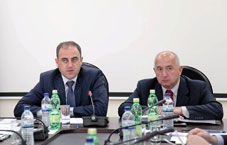 A special commission created by the Georgian government for responding to the needs of residents of villages surrounding the breakaway regions, held a meeting with international donor organizations and the diplomatic corps. The parties discussed the problems locals in the villages along the occupation line face daily. The commission provided detailed information on existing and future projects to help mitigate the war impact in the region.
Representatives of the government also stated that it is not possible to allocate full funds from the stated budget. Therefore, the financial support of the donor organizations will be required for funding the individual necessities families.
It was announced at the meeting that the Ministry of Reintegration together with the Ministry of Regional Development and Infrastructure had issued a joint report on the economic and infrastructure situation in the conflict region. The report has been forwarded to international donor organizations for further research. According to the Minister of Regional Development and Infrastructure, Davit Narmania, some donor organizations may provide financial support to purchase houses for the people affected by the occupation and the barbed wire fences.
"The donor organizations may help us to purchase houses for several people or for the repairing of roofs," Narmania stated. The government is going to arrange a separate meeting with the donor organizations and discuss the possibilities available to purchase the houses for the many families that have lost their homes because of the recent "borderization process" which has left their houses beyond the metal fences installed by the Russian troops.
State Minister for Reintegration, Paata Zakareishvili thanked international organizations and embassies in Georgia for their help to prevent the further installation of the fences.
"We would like to demonstrate that we are going to respond to Russian aggression only in a peaceful manner… I hope the donor organizations will express their intention to help the people (in the conflict region)," Zakareishvili stated.
The meeting was held at the Ministry of Foreign Affairs and was attended by the Ministers of Foreign Affairs, Regional Development and Infrastructure and Reintegration.