British Embassy commemorates Remembrance Sunday 2013
Wednesday, November 13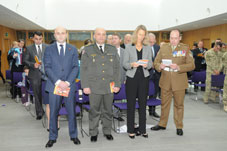 In the United Kingdom and the Commonwealth, Remembrance Day took place on November 10. This is the Sunday nearest the 11th of November - the date chosen to commemorate the First World War which ended at the eleventh hour on the eleventh day of the eleventh month in 1918 (11 o'clock on the 11th November).
The symbol of the Remembrance is the red poppy. Poppy seeds, which had lain dormant for many years in the battlefields of Northern France, bloomed with vigor after the earth was disturbed, and have become a symbol of loss and new life.
Serving in France at the time, a Canadian doctor named John McCrae wrote a poem entitled
In Flander's Fields
, which served as the inspiration for people to wear artificial poppies as a sign of remembrance.
Today, people wear poppies at this time of the year to signify their own remembrance. These are now sold on behalf of the British Legion, a charity dedicated to supporting those serving in the armed forces and veterans.
On Sunday 10 November 2013, a short act of remembrance was held at the British Embassy in Tbilisi where wreaths were laid.