Political party flag flown over presidential palace
By Messenger Staff
Wednesday, November 13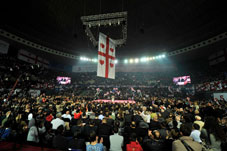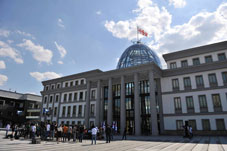 On November 9-10, the flag of the United National Movement party (UNM) was flown over the presidential palace in Avlabari. This created yet another scandal around the outgoing President of Georgia, Mikheil Saakashvili.
The fact became the source of much criticism. Ordinary people expressed such indignation over this fact that the Georgian government released an official statement condemning it and labeling it a gross violation of the constitution and legislation of Georgia.
So, eventually, the flag was removed and replaced by the Georgian national flag. Meanwhile the presidential administration offered the explanation that a TV clip was being shot and accordingly, the UNM party flag had to be in focus.
Most analysts suggest that this fact once again proves the arrogant and capricious manner of Saakashvili. The legislation mentions that any kind of changes in the national symbols displayed on official buildings is a violation of law. However, the law does not stipulate what kind of punishment should be followed. Therefore, many suggest that the legislation should precisely identify what kind of penalty should be taken in similar cases.
Nobody doubts that a punishable action had taken place. However, it has not been identified how severe a punishment should follow. In the criminal code there is a paragraph stating that any insult to Georgiaís national emblem could be punished by imprisonment of up to two years. However, the question remains: should the temporary change of the national flag with the party flag be considered an insult to the state symbol?
Experts in legal issues and lawyers have different opinion whether this action is an insult or not. Overall, this fact is very significant with the background of current presidentís general conduct during the last days of his presidency. He moves a lot, meets with many people and keeps criticizing the current Georgian Dream administration, and their way of governing the country. Everywhere he goes he demonstrates his disrespect towards the coalition.