Junkers and cadets take part in forest restoration
Thursday, November 14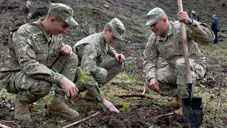 Restoration of the forests destroyed as a result of the 2008 August War began in the Borjomi Gorge. Junkers and cadets of Davit Agmashenebeli National Defence Academy and students of the CadetsíMilitary Lyceum took part in the implementation of the project. The students of military institutions visited the village of Daba in the Borjomi municipality and participated in the restoration of coniferous and mixed forest cover by planting various kinds of plants.
Minister of Environment and Natural Resources Protection of Georgia, KhatunaGogoladze, Head of UNDP in Georgia, Niels Scott, Ambassador of Finland to Georgia ChristerMikhelson and Metropolitan of Akhaltsikhe and Tao-Klarjeti Eparchy, Theodore attended the event.
The United Nations Development Programme (UNDP), the Ministry of Environment and Natural Resources Protection of Georgia and the National Forestry Agency implemented the project. The governments of Georgia and Finland and UNDP supported the initiatives. The forest cover will be restored along the area exceeding 16 hectares, where 22,500 plants will be seated. Preliminary work began two months ago. The land was cleaned from forest debris and burnt bushes and was prepared for putting plants.