Discussion of 2014 budget continues
By TatiaMegeneishvili
Thursday, November 14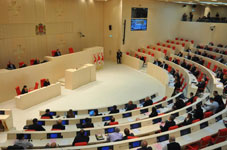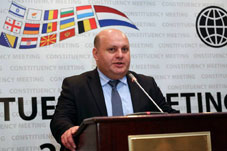 Georgia's budget for 2014 was discussed at an extraordinary session of parliament on November 12th. The issue will be put to the vote after the inauguration of president-elect Giorgi Margvelashvili on November 17th.
According to the Minister of Finance Nodar Khaduri, both the revenue and expenditure of the budget will be increased. Universal health insurance and increased pensions are part of the budgetary plans.
In addition, special attention will be paid to the development of agriculture. In addition, funding will be cut for several state institutions.
According to Eka Beselia, the head of the parliamentary human rights' committee, the former United National Movement (UNM) government left "a huge foreign debt" which must be paid by the new administration.According to Beselia, 800 million lari must be paid next year just to pay for projects undertaken during the previous administration. "Meanwhile, refugees are waiting for social assistance to be increased to 45 lari next year."Beselia stated.
UNM member Mikheil Machavariani responded by describing the 2013 budget as a "failure".
"The budget is only 600 million lari and there is about 100 million lari less in revenue compared to last year." Machavariani said. According to Machavariani, the 2014 budget is based on the faulty assumption that there has been a six percent increase in revenue compared to last year. The UNM member stressed that running huge deficits is "dangerous".
According to Nodar Khaduri, the ministry will fulfill all promises that were given by the Georgian Dream coalition during the 2012 parliament elections. He said intensive consultations are underway with parliamentary committees about planning the budget. A finalized budget will be submitted to parliament within the next two weeks.