Georgia's new president takes office
By Ana Robakidze
Tuesday, November 19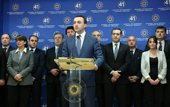 Giorgi Margvelashvili's first presidential decree on inauguration day, on November 17th gives provisional duties to the old team of the government until the election of a new cabinet.
According to the Georgian Dream MP Zurab Abashidze a special session will be held on Wednesday by invitation of the president and a new government will be approved at the session.
Lawmakers already supported the former Interior Minister Irakli Garibashvili's candidacy to become the new Prime Minister of Georgia and a subsequent document was sent to Margvelashvili, who signed it. Therefore, Garibashvili's candidacy is now officially presented.
Margvelashvili started his official meetings as president of the country after the oath-taking ceremony on Sunday. Before starting bilateral meetings with high-rank officials, he addressed guests at the official launch held on behalf of the president, at the Courtyard Marriott Hotel. Margvelashvili spoke about the success Georgia has achieved so far and the future plans of the new government. The president thanked all the guests for arriving in Tbilisi and for supporting the country.
Margvelashvili marked the significance of Georgia and the role the country can play for the international community.
"Georgia has a mission of historical significance of becoming a hub for cooperation, dialogue, and concord between Europe and Asia. Our security and development depend on the consolidation of democracy in Georgia, the introduction of rule of law, and unwavering respect for human rights," he stated.
The president confirmed that the foreign policy will not be changed and Georgia will continue its path to Euro-Atlantic integration and try to achieve full and comprehensive development of bilateral relations with the United States within the framework of the Charter on Strategic Partnership and in various other formats.
"In a few days, the Association Agreement will be initialled at the Vilnius Summit. It is our priority to execute the Association Agreement with the European Union as rapidly as possible, including a Deep and Comprehensive Free Trade Area, confirming and institutionalizing this way the irreversibility of Georgia's European integration. Cooperation with international organizations, such as UN, OSCE, and Council of Europe remains one of Georgia's most important directions," he said.
In his speech, Margvelashvili noted the importance of the partnership with the Middle East, Latin America, as well as, Asian and African countries.
The president said the country is in a difficult position. However, the international community should be confident in Georgia's commitment to democratic values.
"This is not an easy path. We have had successes and failures alike. We went through the most devastating year 2008. Parts of our territories are still occupied, and hundreds of thousands of refugees are still waiting to return to their homes. Nonetheless, it should be noted that the Georgians nation has never doubted its choice," Margvelashvili stated.
After delivering the speech Margvelashvili moved behind the closed doors to hold his first official meetings in his capacity as Georgia's president.