Ivanishvili – a new precedent
By Messenger Staff
Wednesday, November 27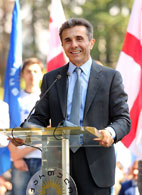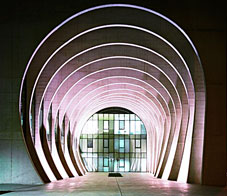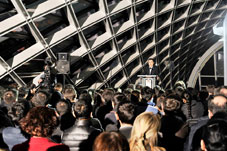 Bidzina Ivanishvili's resignation from the political arena has created a unique precedent of worldwide importance. It is truly unique that a person who has come to power through democratic elections, is still quite popular and has the legal right to retain power for several more years, voluntarily leaves office without any duress or personal crisis.
This is in marked contrast to the figures who have graced Georgian politics in the last 20 some years, most of whom had to be forced from office against their will.
Ivanishvili stayed in politics only for two years (2011-2013) and only one of those years was he actually in power. From the very beginning, he made an unusual statement for Georgian politics: "I will come to power, clean up the political arena and then I will go, although I will leave a party that will be effective and work for Georgia's interests." he announced in October 2011.
His words then sounded strange. There were not many people who believed that Ivanishvili would actually manage to defeat the incumbent United National Movement (UNM). Moreover, everybody thought that if Ivanishvili did somehow manage to become prime minister he would try to retain power as long as possible.
Ivanishvili has fulfilled his election promise. On November 20, 2013, two years and a month after he first announced his political ambitions, Ivanishvili stepped down as prime minister. The same day, Irakli Gharibashvili was approved as the new prime minister by Parliament. Ivanishvili was prime minister for only a year and 25 days.
On November 24th, Ivanishvili delivered a farewell speech in front of the Georgian Dream-Democratic Georgia congress. At this congress, Gharibahsvili was also elected as the new chairman of the Georgian Dream party, while the Minister of Energy Kakha Kaladze was appointed as the party's secretary general.
Ivanishvili's opponents have labelled his move as a step to avoid the responsibilities and duties of holding office. According to this view, Ivanishvili realized that he would not be able to fulfill his election promises and decided to resign before he became unpopular. They also argue that Ivanishvili plans to govern the country from off stage.
Of course Ivanishvili has denied these allegations. He has said that he plans to be an active citizen for another 20 years. According to Ivanishvili, he will either approve or criticize the government according to its performance.
But has Ivanishvili fulfilled his promises?
The major promise Ivanishvili gave was to put an end to Mikheil Saakashvili's governance. This has been done. Most people realize that no one besides Ivanishvili had the resources and drive to unite the various opposition parties into a political coalition that could oust the UNM from power.
The next promise made by Ivanishvili referred to the restoration of justice and an improvement in the country's economy. The economic situation cannot be changed overnight. The UNM manipulated economic figures and significantly misled the world as to how good Georgia's economic situation was.
As for the restoration of justice, this is also rather complicated. There is strong public support for prosecuting many former high ranking officials from the UNM government, including Saakashvili. Of course this should be based on the rule of the law, with the presumption of innocence. But unless those who are guilty are punished, Georgian Dream will not be trusted completely.
So, Georgia is at a crossroads: if Georgian Dream wants to remain popular and have public support, it has to follow its election promises.