EU sets goals for Eastern Partners to seek by 2015
By Ana Robakidze
Monday, December 2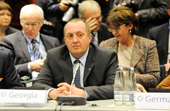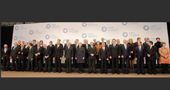 Georgia has initialled the Association Agreement with the EU and signed a framework agreement on Georgia's participation in the EU's crisis management operations. Now, the country's government aims to become the number one reformer and hopeful among the Eastern Partners.
In his address to Eastern Partnership Summit on November 29th, the President of Georgia, Giorgi Margvelashvili, expressed his gratitude to the EU for the support the organization has been providing the country. The President said "the association agreement is a master plan for transforming Georgia into a modern, genuinely European state" and promised that Georgia will react accordingly and meet the EU's expectations and standards.
"The EU takes a 'more-for-more' approach to supporting its partners. Accordingly, Georgia pledges to advance its reforms rapidly in order to timely consolidate its political Association and economic integration with the EU. We aim for Georgia to be a leader in both reform and integration," Margvelashvili stated. He also noted that the European path is challenging for the countries of the Caucasus. However, the Georgian people have made a proper choice and "are gradually assuming their rightful place in the European community of nations."
The President of the European Commission, Jose Manuel Barroso, congratulated Georgia on its success in Vilnius and also reminded that the country has a long way before actually signing the association agreement. "Let us not forget that in coming months and years the demanding task of the provisional application and then the full implementation of these comprehensive agreements is waiting for us," Barroso stated in Vilnius. However, he hopes that it will be possible to sign the agreement with Georgia within a year.
Along with the Association Agreement, Georgia initialled the Deep and Comprehensive Free Trade Agreements (DCFTA) and signed a framework agreement on Georgia's participation in the EU's crisis management operations.
The DCFTA was signed on November 29th by the Georgian Foreign Minister, Maia Panjikdize, and the EU's foreign policy chief, Catherine Ashton. According to the agreement, Georgia will contribute to the EU Border Assistance Mission (EUBAM) in Libya, the EU's military training mission in Mali (EUTM Mali), as well as participate in the EU's civilian mission, the Regional Maritime Capacity Building Mission, in the Horn of Africa and the Western Indian Ocean (EUCAP NESTOR)
Participants of the Vilnius summit set goals to seek by 2015, for the next Eastern Partnership Summit, which shall take place in Riga, Latvia. The Eastern Partners will have to intensify the implementation of the key reforms to strengthen the rule of law, respect for human rights and democratic institutions. The key goals were listed in the final Joint Declaration of the Eastern Partnership Summit. The document sums up the work done so far and states that the EU is ready to further deepen its relationship with the Eastern Partners.
The key goals include: "Making further steps in strengthening democracy, guaranteeing respect of human rights and the rule of law, including through the pursuit of reform of the judiciary and strengthening law enforcement; Promoting and strengthening strategic multilateral projects, through creating a conducive, transparent, regulatory, and financial environment for the implementation of projects of Common Interest and Projects of Energy Community Interests for the countries concerned; Further strengthening of public institutional capacity with support from the EU; Advancing through gradual steps towards visa free regimes, in due course, on a case by case basis, provided that conditions for well-managed and secure mobility are in place."