The challenges for the Georgian Prime Minister
By Messenger Staff
Monday, December 2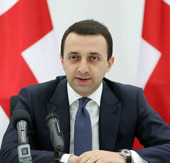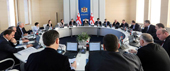 At the end of 2013, there were major changes in the Georgian political leadership. The former President Mikheil Saakashvili left his position as his term expired and Prime Minister Bidzina Ivanishvili also resigned. Giorgi Margvelashvili was elected as the new President of the country, while Irakli Gharibahsvili – was nominated as the new PM.
It is interesting that at the beginning of this year, neither of these persons had been thinking of being promoted so high. So, with new faces at the highest state positions, a new version of the state constitution has come into force. According to which the major figure in the country becomes the Prime Minister, whose powers and rights increase on behalf of decreasing the powers and rights of the president.
The former Minister of Internal Affairs under Ivanishvili's governance, Irakli Gharibashvili, apart from receiving the PM's post, has become the head of the Georgian Dream political party, as Ivanishvili has resigned from this position as well. These major rules have created a challenging situation for Gharibashvili, because through receiving huge powers he has also taken a heavy burden of responsibility towards the country.
Thus, Gharibashvili has entered the game on the run. He inherited the same cabinet of ministers, with the same tactics, and the same strategy. On the one hand, Gharibashvili has to preserve the unity of the Georgian Dream coalition by keeping the members of the party together, while, on the other hand, the leaders of the different parties should agree with the idea that Gharibashvili will be their leader and thus should subordinate their ambitions to this idea.
Although the ministers have remained the same, there was some reshuffling amongst a number of deputy ministers. Analysts understand this reshuffling as a signal that not always and not everywhere has everything been in order in those ministries. Besides, there is also an opinion that these new deputies will be representing the interests of Gharibashvili on the ground.
There are huge expectations in the country. People expect, in particular, that all the promises given to people by the former PM Bidzina Ivanishvili should now be fulfilled by Gharibashvili. People expect that the economic situation in the country will start improving as it had been promised earlier.
There are different issues which need to be improved in the country including the restoration of justice and the punishment of those guilty of crimes during the UNM administration. All these and many more issues including the forthcoming local elections should be faced successfully by the current Georgian administration.
This all creates a challenging situation for Gharibashvili and his team.