Russian naval ships to make 20 more foreign visits by the end of 2013
Friday, December 6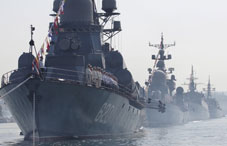 Russian naval ships will make 20 more visits to foreign ports before the end of 2013, Russian Navy spokesman Captain Igor Dygalo told Itar-Tass on Thursday.
"The number of visits made by Russian navy warships has increased significantly. This year, our ships and supply vessels have intensified their military-diplomatic missions and have paid 115 official visits and business calls to foreign countries' ports. In 2012, there were only 80 such visits and calls."
Dygalo said Russian naval activity around the world in 2013 had been accompanied by intensified international cooperation.
"This promotes better mutual understanding between the naval forces of Russia and foreign states and contributes to stability in the world's oceans and seas." he added.
(ITAR-TASS)