Defence and Security Working Group Meeting in Washington
Thursday, December 12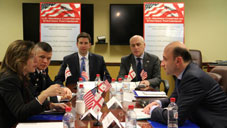 A Defence and Security Working Group meeting was held in Washington within the U.S.-Georgia Strategic Partnership Commission.
From the Georgian side, First Deputy Minister of Foreign Affairs, Davit Zalkaniani and Deputy Defence Minister, Mikheil Darchiashvili, co-chaired the working group meeting. Deputy Assistant Secretary of State Greg Kausner and Deputy Assistant Secretary of Defence Evelyn Farkas participated in the working group meeting from the American side.
The Georgian side delivered information to the representatives of the U.S. State and Defence Departments on the security environment in Georgia and in the region, including the existing circumstances in Georgiaís breakaway regions. The U.S. side emphasized its support for Georgia regarding its territorial integrity and sovereignty. The sides also referred to the ongoing steps concerning the non-recognized borders.
Deepened cooperation, reforms in the defence sphere and future cooperation plans were the topics of the discussion at the working group meeting. The U.S. side positively evaluated the progress Georgia achieved in the defence reform process. The U.S. also reiterated its firm support for Georgia with regard to NATO membership.
The U.S. side also said it would assist Georgian troops wounded in international operations in their rehabilitation process.
During the US visit, deepening cooperation issues in the defence sphere between Georgia and the US will be discussed during the Bilateral Defence Consultations at the Pentagon. Bilateral meetings with the representatives of the Pentagon are also scheduled. Deputy Defence Minister Mikheil Darchiashvili is leading the Georgian MoD delegationís visit to the US. He also plans to hold meetings with congressional members and their advisers.