General Kvinitadze Commemorated at Defence Ministry
Thursday, December 12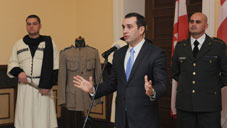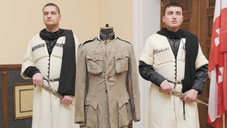 Georgian General Giorgi Kvinitadze was commemorated at the Defence Ministry. Granddaughter of Giorgi Kvinitadze, the British actress Maryam d'Abo also attended the event dedicated to the Georgian General.
Full dress military uniform of General Kvinitadze was also exhibited at the event. Defence Minister of Georgia took a decision to restore the military uniform and for this purpose, the Ministry of Defence of Georgia will sign a Memorandum of Understanding with the Georgian National Center of Manuscripts. The full dress uniform is a unique one. Not a single General's parade uniform has survived since Georgia gained independence. The manuscripts of General Kvinitadze, his icon and chokha are also stored at the National Center of Manuscripts.
Director of the National Center of Manuscripts Buba Kudava handed over the miniature depicting the combat scene and the new edition of The Knight in the Panther's Skin to Defence Minister Irakli Alasania and Maryam d'Abo.
At the event, the Defence Minister introduced the MoD's new decision to the guests. As Irakli Alasania outlined, the Cadets' Military Lyceum will be named after General Giorgi Kvinitadze. While delivering a speech, Irakli Alasania focused on General Kvinitadze's role in building- up the Georgian Army and making it an independent state at the beginning of the 20th century.
"It is a very exciting ceremony. One American and two distinguished Georgian officers were awarded with medals aptly called the "General Kvinitadze". It was a very emotional day for Georgian officers. In Georgian history, General Kvinitadze was one of the most famous, talented and experienced officers, who won many battles. We use and will use his experience in the Georgian Defence Doctrine in the future".
Two Georgian officers were awarded the same medals for their achieved success in combat preparation and maintenance of high combat readiness for the army. Granddaughter of General Kvinitadze, Maryam d'Abo gave the service medals to Head of the Second Division of the J-2 Intelligence Department of the GAF, Colonel Zviad Papavadze and Head of Exploitation and Repairing Planning and Control Section of Tank Division of Land Forces Command, LTC Shalva Kacharava.
Defence Minister Irakli Alasania presented the General Kvinitadze medal to LTC Devid Johnson, Head of International Relations Direction at the Georgian National Guard, USA.
Chief of General Staff of the GAF, Major-General Vakhtang Kapanadze, his deputies, the top brass of the military, historian Giorgi Otkhmezuri and ambassadors and defence attaches accredited to Georgia attended the event.