Reinforced Platoon performs ISAF Mission Successfully
Thursday, December 12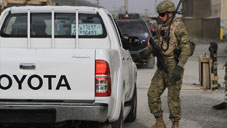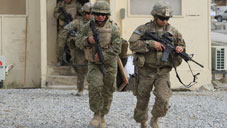 The Platoon of 13th Light Infantry Battalion of I Infantry Brigade of GAF is successfully performing the ISAF mission in Afghanistan.
Reinforced Platoon of "Shavnabada" Battalion has been deployed at the Camp "Phoenix" under the command of the U.S. forces. Their main task is to insure security at the base. The Georgian soldiers are engaged in patrolling inner and outer perimeters of the territory, strengthening posts, controlling checkpoints and in other security related missions. The Georgian peacekeepers are fully involved in the rapid response operations led by the U.S. forces and carry out entrusted missions shoulder to shoulder with them.
"The Georgians we have here support us and secure the area. We are very thankful to have them here. They have supported us in a lot of different security missions that we have many times based on the camp "Phoenix" and with local community. The Georgians have assisted us greatly in this area, provided additional security locations which we otherwise wouldn't have. So we are very thankful to have them here working with us. We maintain a very close working relationship with them depend on them in a lot of difficult situations. They are very reliable," said Base Support Garrison Commander – LTC Bruce Strickland.
The military servicemen of 13th Battalion underwent intensive pre-deployment preparation in the National Training Center "Krtsanisi". They went through 8 week-long training in tactical and shooting skills, topography, first medical aid and navigation. National Training Centre instructors prepared the Georgian Reinforced Platoon for the NATO-led ISAF mission.