Georgian Parliament and people express solidarity with Ukrainians
By Ana Robakidze
Friday, December 13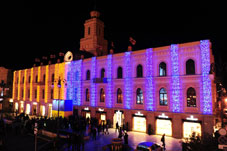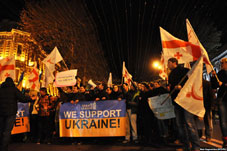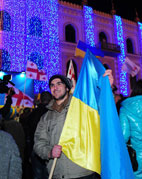 The Georgian Parliament released a statement on December 11th that expresses it official support for the Ukrainian people's protests against their government's decision to suspend negotiations with the European Union.
"The Georgian Parliament declares its complete solidarity with the Ukrainian people in its struggle for freedom of choice. It expresses concern about the latest events and the use of force against peaceful citizens." the statement reads. The statement passed by a vote 68 to 0.
Georgian MPs confirmed their full support for the Ukrainian people's desire to join the European family. "The Georgian Parliament supports the will of the Ukrainian people to become a full-fledged member of the European and Euro-Atlantic family and believes that despite the existing problems, both Georgia and Ukraine will take a dignified place in the international democratic community." the statement reads.
The draft of the statement was prepared by the ruling Georgian Dream party. The United National Movement (UNM) refused to participate in the voting. UNM members were not satisfied with the final draft of the statement and considered the wording "not strong enough" in depicting Russian involvement in the recent events in Ukraine. Georgian Dream MP's think the text of the document duly emphasizes Russia's negative role.
The Georgian Parliament also welcomes the efforts of the international community in supporting the Eastern Partners in their European aspirations and stressed that countries should be given a choice to determine their foreign policy and no other country should intervene in this process.
Georgian citizens also decided to express solidarity with Ukrainians. Several hundred people gathered in the center of Tbilisi, outside Tbilisi City Hall, which was lit up in blue and yellow, the colors of the Ukrainian flag. The demonstrators were joined by Tbilisi Mayor Gigi Ugulava and members of the UNM party.
"First of all I would like to express support to our friends, the Ukrainian people, who have a right and have strongly expressed their will to live in a free country." Giga Bokeria of the UNM said.
Participants of the rally said that Ukraine has always supported Georgia in its times of difficulty, and now it is Georgia's turn to stand by the Ukrainian people.
After the municipal government's decision, Tbilisi City Hall will be lit up in blue and yellow colors through the end of the year as a sign of solidarity with Ukraine.