EU-Georgia cooperation council
By Ana Robakidze
Monday, December 16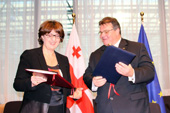 The fourteenth annual meeting of EU-Georgia Cooperation Council took place in Brussels on December 12th. The Georgian delegation was chaired by Foreign Minister Maia Panjikidze. Representatives of the State Minister for European and Euro-Atlantic Integration, Reintegration and other state officials also attended the meetings.
"It will be a very important meeting, because it will determine to a certain extent the tasks that we have to implement after the Vilnius summit," Panjikidze said ahead the council meeting.
The parties discussed the recent developments in conflict resolution in Georgia, challenges the country may face after the Vilnius Summit and the reforms Georgian government has on the agenda. The EU officials expressed their concern at moves to install obstacles to free movement across the administrative boundary line with the breakaway Georgian regions of South Ossetia and Abkhazia.
They also congratulated the Georgian side on the continuing consolidation of Georgian democracy as represented by the recent presidential election and welcomed the constructive role played by both sides in parliament during the period of cohabitation which ended with the inauguration of the new President.
In parallel to the council meeting, the sides signed a protocol on Georgia's involvement in EU programs. The document was signed by Panjikidze and the Minister of Foreign Affairs of Lithuania, Linas Linkevicius. Georgia was asked to participate in the programs the EU runs in the fields of public health, culture and scientific research.
"We have never before offered so many programs to the countries covered by the European Neighborhood Policy," Linkevicius said. Lithuania currently holds the Presidency of the Council of the European Union.
At the press-conference held after the council meeting, Linkevicius said that since the previous Cooperation Council, Georgia has achieved significant progress, especially in implementing its visa liberalization action plan. He emphasized the high level of democracy during the presidential election Georgia held in October and said the EU is now looking forward to the local election in 2014.
"We have a busy year ahead with many challenges, but we will face them together – that is very important. Georgia fully deserves its place at the forefront of the Eastern Partnership," Linkevicius said.
He once again called Georgian government to pay careful attention to defending political pluralism, media freedom, transparent investigation process and criminal prosecutions free from political influence.
Georgia irreversibly follows its European integration course - this is the main Georgian message to the EU, Panjikdize said at the press conference. She also stated that EU's political support is vital for Georgia, as the country will have a tough year to make sure the Association Agreement and DCFTA is signed by September 2014.