TBC Bank Launches Web Platform
By Tatia Megeneishvili
Monday, December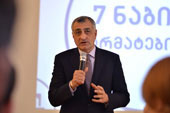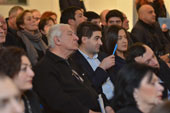 On December 13, the International Finance Corporation (IFC), a member of the World Bank Group, and Georgia's TBC Bank, launched a free web platform designed to help small and medium enterprises (SMEs) become more competitive and profitable, boosting economic growth across Georgia.
The SME Toolkit, an IFC innovation developed in partnership with IBM, will provide small and medium businesses with tools and educational resources that support their operations from start-up to expansion. This web platform, now available in Georgian at www.tbcbusiness.ge is tailored to the local market and will provide businesses with practical guidance in areas like accounting, access to finance, and human resources.
Through a network of global partners and local distribution partners, the toolkit provides businessmen and women with online and mobile phone access to key business management information, interactive tools, and educational resources free-of-charge.
Small and medium business educational web-portal is a new component of TBC Bank's business supporting program 7 Steps to Successes. This program includes support for small and medium businesses in 7 different components. Including free training to small and medium entrepreneurs, this project is successfully carried out already for a few months; internet bank, which has been recognized as one of the best servers in the world; third component is exactly foresaid educational web-portal. The project will continue in the future and the Bank, in total, will offer 7 components to small and medium business, which will help in the success of their business.
According to TBC Bank's CEO, Vakhtang Butskhrikidze, the SME segment has always been a priority for TBC Bank.
"As small and medium businesses contribute greatly to the country's economic development, the SME Toolkit demonstrates our commitment to creating a special relationship with our clients. This approach will not only further enhance our long-term partnership with SMEs, but will also be very helpful for the Georgian economy," Butskhrikidze stated.
Deputy Minister of Economy and Sustainable Development of Georgia, Ketevan Bochorishvili, said that the ministry is working with TBC bank and the IFC to support small and medium business.
"Small and medium businesses are very important. The reason is that most employed people are working in this sector. It is about 95% in Georgia, but it's might in the economy is only 16%. We will continue supporting simply because it is good for both sides," Bochorishvili said.
The IFC is the largest global development institution, and is focused exclusively on the private sector. Working with private enterprises in more than 100 countries, they use their capital, expertise, and influence to help eliminate extreme poverty and promote shared prosperity. In FY3, the IFC's investments climbed to an all-time high of nearly $25 billion, leveraging the power of the private sector to create jobs and tackle the world's most pressing development challenges.
According to IFC's Regional Manager for Sustainable Business Advisory in Europe and Central Asia, Patrick Luternauer, this is the IFC's first SME Toolkit platform launched in partnership with a financial institution in Europe.
"It is a vital part of the IFC's efforts to make global knowledge available to private companies in this region, which will help them grow and drive economic development. Even though this is our first project realized with bank, I am sure it will be successful. Such kinds of programs are very well used in both large and small countries. For example, it works great in both Switzerland and Germany," Luternauer stated.
The IFC's SME Toolkit, launched in 2002, is now available in more than 40 countries and 17 languages. Since the program's launch, SME Toolkit web sites have been visited by nearly 20 million people across the developing world. The introduction of the SME Toolkit is part of IFC's effort to support the SME sector in Europe and Central Asia. The work is supported by the Swiss State Secretariat for Economic Affairs.
IFC has been partnering with TBC since 1998 and became a shareholder in 2000. The SME Toolkit is part of TBC's business support program, '7 Steps to Success', which offers free consultancy services to small and medium enterprises.
The SME Toolkit is supported by several leading organizations, including PwC, Ernst &Young, BDO, LeavingStone, Management Academy, the Georgian Federation of Professional Accountants, and Georgia's Ministry of Economy and Sustainable Development.