Self-governance reform adopted at first hearing
By Messenger Staff
Monday, December 16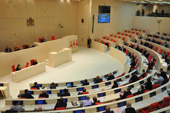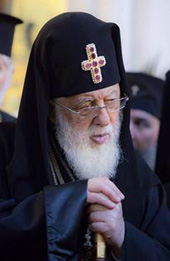 On December 13, a draft law on self-governance was adopted by 82 MPs. No parliamentarians voted against it. However, the parliamentary minority did not attend the vote. They have boycotted the law. The Georgian Dream considered various critical remarks from Patriarch Ilia II and removed controversial paragraphs from the draft.
The proposed changes create the framework for the local self-governance elections scheduled for late spring-early summer of 2014. Generally, the self-governance elections are held every fourth year according to the constitution. However, in 2014 the population will elect self-governance after only three y ears.
The new law envisages increasing the number of towns in the country so that apart from Tbilisi, Rustavi, Kutaisi, Poti and Batumi, Telavi, Mtskheta, Gori, Akhasltsikhe, Ambrolauri, Ozurgeti and Zugdidi will also have the status of towns.
The citizens of those towns will be granted the right to elect mayors by direct voting. Previously, this rule was only applied to the capital of Tbilisi. In addition to the mayors, the citizens will elect the chairmen of the executive bodies – city councils. Separate communities will also elect their leaders as this unit actually represents the unity of different settlements, towns and villages. The election of other bodies will still be defined by parliament.
Presumably, 69 municipalities might be increased. A special council will make this decision, while this issue will be finally adopted in 2015. Parliamentary Chairman Davit Usupashvili stated that although more than 50 meetings have been held, more interactive communication should have taken place over the proposed changes, including the special meetings with the population to explain the essence of the reform. According to Usupashvili, there is no need for refusing the reform in fear of possible error.
"If we do not have errors there will be no progress accordingly," he said, adding that such steps should be taking place in Georgia.