Foreign Minister sums-up work of her office in 2013
By Ana Robakidze
Tuesday, December 24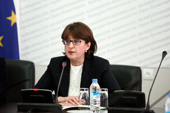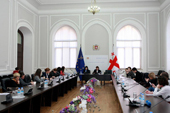 Foreign Minister of Georgia Maia Panjikidze gave a press conference on December 23rd and summed up the work of her office in 2013.
Panjikidze spoke about internal and foreign policy, challenges the country may face before signing the Association Agreement with the European Union, high-profile criminal cases against former official and Georgia-Russia relations. She said that 2013 was one of the most successful years in the country's foreign policy.
"Georgian foreign policy efforts were aimed at achieving the main goal both with regard to individual countries and in the international format. This is the provision of international involvement in the strengthening of Georgia's territorial integrity, the achievement of concrete results in reaching European and Euro-Atlantic goals, the deepening of the strategic partnership with the U.S. and the relationship with partner and neighboring countries, as well as the de-escalation of relations with Russia with full respect for the territorial integrity and sovereignty of our country," Panjikidze said.
Speaking about foreign policy and relations with the European Union, Panjikidze said that the situation in Ukraine should be considered carefully, as Georgia may face similar pressure from Russia.
"We were not in a less dangerous situation (than Ukraine) over the last year. I am talking about the barbed wire fences and building other barriers, and the provocations to which the reaction of the government of Georgia was peaceful and calm. We keep on responding the same way and we will not allow the escalation of the situation," the minister stated. She added that her ministry is actively working to avoid further provocations from Russia and looks forward to the support of Georgia's partner countries.
Despite these problems, relations with Russia have been stabilizing recently. Panjikidze said that the parties have been successful in restoring trade relations.
Speaking about the high-profile criminal cases, Panjikdize said that she totally disagrees with the idea that the cases are politically motivated. She said that if one has committed a crime, they should face appropriate criminal charges regardless of political status.
"I can say that if the misappropriation and embezzlement of such large amounts of state funds is confirmed, then this is a very serious crime and the culprit must be punished. The law must work and every person must be equal. Political figures have higher responsibility before the people and the state and they must be the examples of justice in the country. Therefore, transparent and fair trials cannot affect the country's international reputation in any way," Panjikidze said, commenting on the latest trial against Tbilisi Mayor Gigi Ugulava.
The foreign minister also announced at a press conference that Prime Minister Irakli Gharibashvili will pay his first official visit to the U.S in the first part of 2014. Panjikidze said that the detailed information of the visit will become available soon.