Tourism yields $730 million
By Messenger Staff
Tuesday, December 24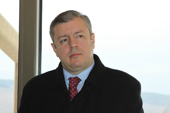 According to the Minister of Economy and Sustainable Development of Georgia, Giorgi Kvirikashvili, Georgia recorded tourism-based revenues of $730 million in 2013. The number of international tourists entering the country reached 5 million this year. There are huge plans in the country for the next year including a hiring increase of people in the tourism industry and plans to attract more tourists to the country.
The target figure for 2014 is $1.1 billion of revenues. The Georgian National Tourism Agency (GNTA) informed the public that Georgia has high figures of growth with regard to attracting tourists.
The GNTA highlighted the directions for the next year, and include the positioning of target markets, the development and regulation of the tourism infrastructure and the improvement of the quality of services.
Minister Kvirikashvili highlighted the importance of wine tours - mainly in Kakheti, promising that more tourist destinations are supposed to be opened.